Spring is right around the corner. How awesome would it be to feel like your skin looks AMAZING without makeup? If you're well versed in skincare techniques, you know that microdermabrasion is a popular, non-invasive cosmetic procedure that gently exfoliates the top layer of skin to reverse the signs of aging. And you don't have to pay big bucks by getting it done at a salon or spa. Now you can enjoy the incredible benefits of light abrasion by using a home microdermabrasion system. Let's get to my Microderm GLO review.
Facts About Microdermabrasion
---
Skin takes a beating year in and year out.  Every day, it's host to dirt, dead skin cells, and bacteria, which can lead to breakouts, acne, dullness, and uneven texture, not to mention fine lines, wrinkles, and sagging skin. Just like there is blue sky above the clouds on an overcast day, there is youthful, plump, glowing skin beneath all that surface gunk. This is the purpose behind microdermabrasion, to clear away the debris, so your natural radiance can shine through.
No longer do you have to break the bank with expensive procedures that can only be done at salons. Using advanced technology like that of the Microderm GLO, you can now yield impressive results using the process of light abrasion to remove the top layer of skin, while promoting the growth of healthy, new cells. The dual-action therapy boosts blood flow to the epidermis, rebuilding elastin and collagen to keep the skin tight, firm, and supple.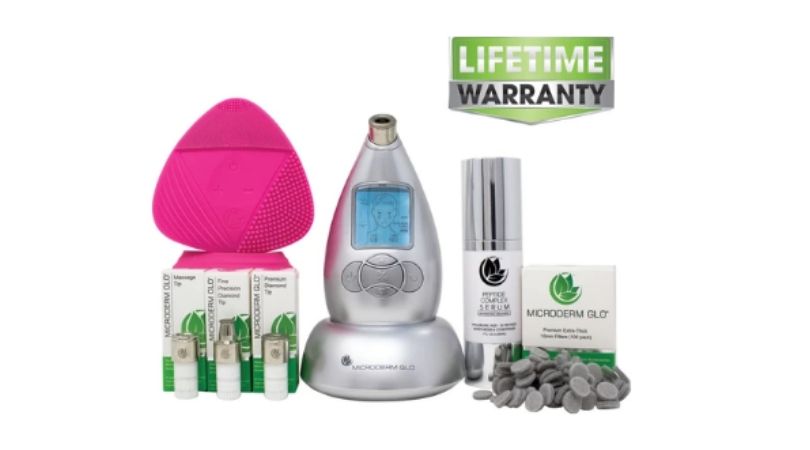 In 1989, microdermabrasion was initially developed as a therapy to minimize the scars of burn victims.
The skin-resurfacing results were so dramatic, that after extensive clinical testing, it was reclassified as a cosmetic procedure in the United States in 1998.
The technique works by using crystals, emitted from a handheld suction device, to exfoliate the top layer of skin to remove dead skin cells.
These cells, along with the crystals, are then removed from the skin using a vacuum. Microdermabrasion is a painless and non-invasive procedure that enhances the appearance of the skin.
Benefits Of Using A Home Microdermabrasion System
---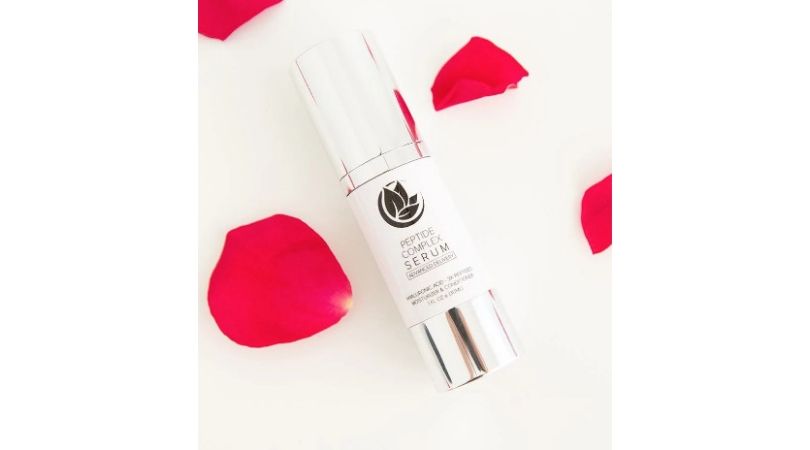 Promotes the growth of new skin cells
Smoothes and softens skin
Buffs away rough patches
Stimulates the production of collagen and elastin
Diminishes scars caused by acne
Reduces fine lines and wrinkle depth
Improves skin tone and texture
Decreases hyperpigmentation and age spots
Brightens complexion
Moisturizes, heals, and repairs
Minimizes pore size
Treats sun damage
Microderm GLO Features
---
The Microderm GLO complete skincare bundle includes 7 products, including the Microderm GLO diamond microdermabrasion system (silver) and charging base, three tips: a premium, precision, and massage tips, 100 extra-thick 10mm filters, peptide complex serum, and a silicone facial cleansing brush. Other features include:
Patented at-home microdermabrasion system
Diamond Safe3D technology
Designed to mimic salon-quality results
Dual-action therapy
Product dimensions measure 8″ x 8″ x 6″
Three levels of suction
Works for all skin types
Takes only 4 minutes a day
Use just once per week to notice results
Dermatologist recommended
Comes in 2 colors; silver and white
1 lithium battery included
Simple to use
Lifetime warranty
How To Use
---
The Microderm GLO is easy to use. Start by washing your face with the silicone sonic facial brush.
With the Microderm GLO, gently glide the diamond tip vacuum suction evenly across your skin, making sure it remains flush with your face.
When you're finished, apply a small dab of the peptide complex serum to cover both your face and neck.
Use circular motions to massage the serum into your skin. That's all there is to it. Enjoy how radiant your skin looks, how well your skincare products absorb into your skin, and how smooth your foundation and blush go on. Repeat this process 1-3 times per week.
Redness and slight bruising are normal after using Microderm GLO, due to the top layer of skin being removed. This may cause slight discomfort but any adverse effects will resolve with a day or two. To minimize discomfort, use the lowest setting when first beginning to use the device, and do not stroke any one area more than two times during your initial treatments.
Frequently Asked Questions
---
1. Question: Will the suction motion hurt my skin?
Answer: No, the suction is safe and will not harm your skin, even at the highest setting. People with thick skin can intensify the suction-effect by pressing more firmly. Do a test patch beforehand if you're worried about it.
2. Question: Will the procedures remove peach fuzz?
Answer: No, the system is designed to exfoliate dead skin cells to refresh and rejuvenate the skin.
3. Question: How long will the tips last?
Answer: The tips are designed to last approximately 6-9 months if you consistently use the system 2-3 times per week.
4. Question: How do I clean the device?
Answer: After each use, rinse and brush with hot water to remove build-up.


Key Points
---
Microdermabrasion is a fantastic way to brighten your complexion, improve texture, and reduce the appearance of fine lines and other imperfections. The Microderm GLO can be used weekly from home to keep your skin glowing and beautiful. Be prepared to get addicted to this innovative, non-invasive cosmetic procedure that will have your friends wondering what your secret is. Transform and refresh your skin right from the comfort of your own home.
Did you know you could do microdermabrasion from home? Let me know in the comments:)
This post contains affiliate links, which means I may receive a small commission, with no cost to you, if you make a purchase through one of my links.