When you hear the word skincare, I bet you think of your face, but remember you neck is an extension of your face, and will give away your age if you don't baby it in the same way. Spencer BarnesLA has created a revolutionary product that is unlike any other skin care product on the market today, it's that unique, with a lineup of celebrities, entertainers, and athletes singing its praises. Find out if it's possible to get an instant neck lift with Spencer BarnesLA sculpting wand?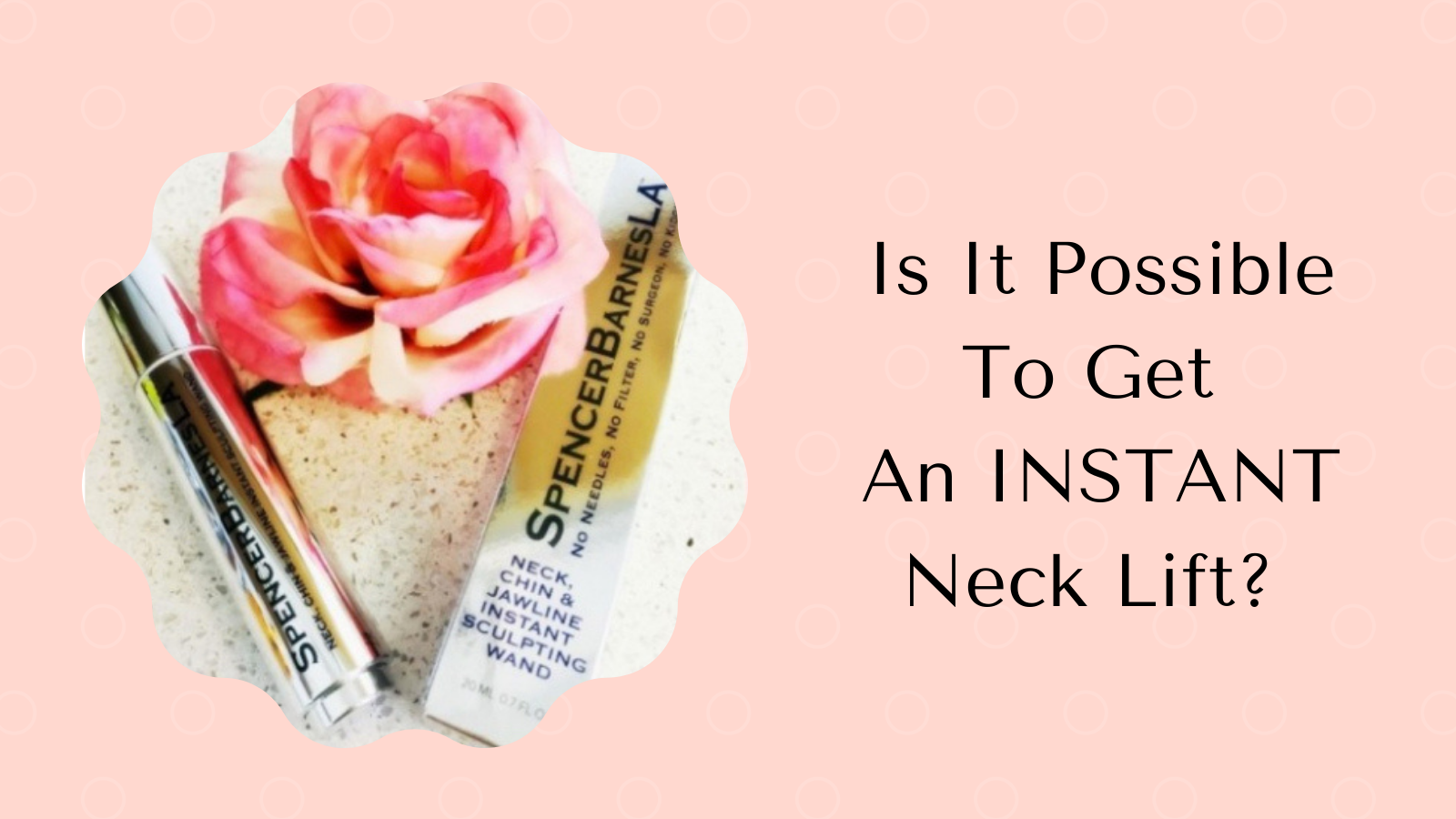 Who Is Spencer Barnes?
---
Spencer Barnes is a renown skin care expert and makeup artist based out of Hollywood whose clientele consists of celebrities, such as Meghan Markle, Brooke Burke, Cindy Crawford, and Julianne Hough. He is best known for his "deceptively clean beauty" that enhances a woman's natural beauty. His philosophy lies in learning to see and cultivate beauty in all forms.
A professional expert, Mr. Barnes has collaborative roles in some of the top skincare lines and cosmetic companies, such as Revlon, Kate Somerville, Maybelline, and Merle Norman. In addition to the neck sculpting wand, he also sells a sculpting wand for the face.
Sculpting Wand
---
You neck is the first area to show the signs of aging because the skin is thin and fragile. If you're over 40, you most likely have already noticed the first signs of crepey skin.
Spencer Barnes has designed a wand that will purportedly take up to 10 years off your chin, neck, and jawline because it boosts collagen production, improves skin tone, and tightens loose skin.
The amazing results people are achieving are due to collagen stimulation. Collagen is the main structural protein in the skin that declines with age. When it starts declining, you'll notice sagging, fine lines, and wrinkles, and a loss of elasticity. More collagen production and elasticity in the neck, means better tone, less wrinkling and sagging, a smoother, softer texture, increased hydration, tighter skin, and a brighter complexion.
You know those horizontal lines on your neck? Those are what you'll notice improvements in first when using the sculpting wand. It's a great alternative for those not yet ready for procedures that use lasers or radio frequency to treat the skin. While these professional treatments will last longer, you'll need to weigh the benefits in terms of cost and convenience.
How To Use The Instant Neck Lift Sculpting Wand
---
The sculpting wand is a roll-on applicator, making it easy to dispense the product on your neck, chin, and jawline. It's recommended to apply the product in the morning after you've washed your face, and repeating again before bed. Always use the wand on clean skin. It's normal to feel a slight tingling sensation after applying the wand, which is due to a tightening effect.
Each wand contains 104 pre-measured applications so it's almost a two-month supply. When applying, use some pressure to cover your entire neck, chin, and jawline area from your chest right up to below your ear lobes for best results. It will take about five minutes for the area to dry completely. The wand is small enough to toss in your purse to take with you when traveling.
What About The Ingredients And Cost?
---
Most of us are mindful of what ingredients are in our skin care products. Spencer Barnes sculpting wand is free of preservatives, is gluten-free, doesn't contain any parabens, and is cruelty-free. It's also a vegan product. Each wand costs $89.00. While that seems expensive, it sure beats the cost of plastic surgery if you're happy with the results. The sculpting wand is safe, noninvasive, and only takes a few minutes to apply.
Whether you use anti-aging tools, such as the neck sculpting wand or opt for more costly procedures using lasers and radio frequency, keeping your skin hydrated is a must.
I like DIY hacks you can do at home to keep your skin soft, supple, and looking it's best. Below is a face and neck cream recipe you can make at home.
It's only takes a few minutes to make, it's inexpensive, effective, and will last a long time so you don't have to make it very often. Give it a try. I think you'll be pleased with the results.
DIY Face Cream Recipe
---
Ingredients:
1/2 cup Shea butter: Nourishing, anti-inflammatory, aids in collagen production
1 teaspoon 30% glycolic acid: exfoliating, minimizes blackheads and pores, evens out hyperpigmentation
1/2 Tablespoon castor oil: Anti-bacterial, detoxifies, is an amazing lubricant
1/2 Tablespoon avocado oil: moisturizing, anti-inflammatory, prevents acne
1 teaspoon vitamin E oil: fights free-radical damage, hydrating, reduces scarring
1 teaspoon aloe vera gel: antioxidant, anti-bacterial, accelerates healing
2 teaspoons hyaluronic acid: Holds in moisture, plumping, decreases fine lines and wrinkles
1 teaspoon squalane: antioxidant, anti-bacterial, restores suppleness
4 drops of your favorite essential oil (I use rosemary because it's a natural preservative)
1 drop phenonip (use this if you don't use rosemary)
Directions:
Put the Shea butter in a small glass bowl. Fill a small saucepan half way full with water, and turn the heat to low. Place the bowl with Shea butter in the pan. It will take a few minutes to melt. When the Shea butter is almost melted, add the castor and avocado oils, vitamin E, aloe vera gel, and squalane.
[Read More: Squalane [A Natural Remedy For Beautiful Skin]
Key Points
---
If your neck is causing you grief, give the neck sculpting wand a try. If the wrinkling and sagging on your neck isn't too bad, you'll be pleasantly surprised with the results. And remember, when applying skincare products, don't forget your neck. If anti-aging ingredients are good enough for your face, your neck will love them too! Check out the sculpting wand here.
Have you used any of Spencer Barnes beauty products? Let me know in the comments:)