It's enough to make your head swim with all the beauty gizmos and gadgets on the market today. What is the best sonic facial cleansing brush system? Cleansing brushes are designed by engineers and scientists  to cleanse, firm, and tighten. In just three minutes a day, you can gently and thoroughly remove impurities from your skin, leaving it smoother, more radiant, and younger looking. What is the best sonic facial cleansing brush system?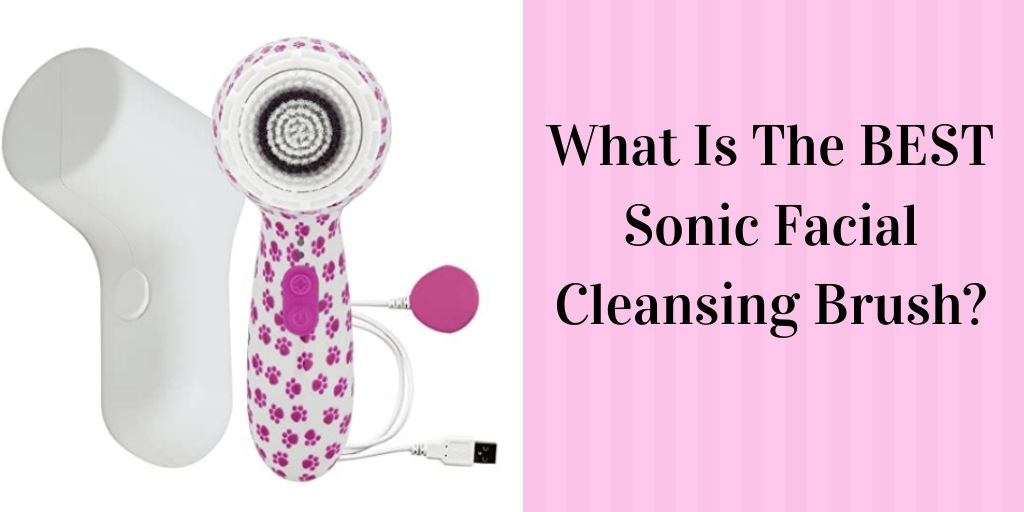 Facial brush devices have been found to cleanse up to seven times better than if you washed your face with your hands. That's some pretty powerful cleaning right there. Not only are facial brushes great for cleansing, they also prepare the skin for better product absorption so you get more bang for your buck out of your serums, creams, and moisturizers. 
Michael Todd Sonic Facial Cleansing Brush Systems 
---
Here are a few facts for those of you who aren't familiar with facial cleansing brushes. Facial brushes are designed to clean the skin while gently exfoliating. These rechargeable beauty tools are also amazing at toning and lifting, not to mention very relaxing, because who doesn't love a massage? Each time you use a sonic brush you are giving yourself a soothing, invigorating massage.
Sonic brushes are recommended by cosmetic surgeons, dermatologists, and skin care spas, with many big-name retailers selling the devices. No longer does luxurious skincare need to be complex or costly. What sets Michael Todd Beauty brushes apart from other facial brushes is that they're antimicrobial, which prevents bacteria, odors, and stains from building up on the brushes.
Antimicrobials assure that the brushes stay cleaner and fresher for longer periods of time, and make it so you don't have to replace them as often as brushes that don't incorporate an antimicrobial. The antimicrobial that is used is registered with the Environmental Protection Agency, and is subject to be patented.

Michael Todd Beauty award-winning beauty tools and brushes are designed to prep the skin for the application of serums, creams, and moisturizers. The brushes do this by exfoliating the skin of dead skin cells and other debris.
Topical preparations go on much more smoothly when dead skin cells have been eliminated. Add to this feature Sonicblend Microdust technology, which seamlessly fills in fine lines and wrinkles to give your complexion that coveted airbrushed look. Facial brushes operate at multiple sonic speeds, allowing you to customize your skincare experience by choosing the speed you'd like to use. There are six speeds to choose from. Each time the build-in timer beeps, you know it's time to move on to the next area.
How Do Sonic Facial Cleansing Brush Systems Work?
---
Michael Todd Beauty uses brush systems that operate on sonic power, which incorporates hundreds of micro movements per second. Sonic power creates a vacuum effect, to remove makeup residue, sunscreen, dirt, oil, and other impurities from the skin's surface, as well as from the pores. I like the Soniclear Elite sonic facial brush
In comparison, brushes that rotate and spin may have negative effects due to the pulling and tugging of the skin. Both the Soniclear Elite and Soniclear Petite utilize innovative technology that prevents damage to delicate facial tissue by using gentle pulsating movements. In fact, it's gentle enough to use twice a day. Noticeable improvements include reduced pore size, improved skin texture, decreased congestion, better hydration in the skin, and less visibility of fine lines, wrinkles, and pigmentation.
Benefits
---
A sonic facial brush is for you if you're concerned about any of these signs of aging: facial sagging, lack of firmness, fine lines and wrinkles, reduced radiance, a lackluster complexion, droopy jowls, and neck folds. Not a pretty sight, I know, but at least we have tools at our disposal to work with.
The Michael Todd sonic facial cleansing brush systems have been used by hundreds of devotees. Here's just a few of the many benefits, and please understand that the results you'll achieve are cumulative, meaning the longer you do it, the better you'll look:
Minimizes pore size while effectively cleansing the skin
Better absorption of skin care products
Incorporates antimicrobial protection into all brushes (registered with the Environmental Protection Agency )
Removes makeup and smoothes skin tone
Stimulates circulation and blood flow
Firms, tightens, and lifts, while reducing sagging
Diminishes dark spots and blemishes
6 speed settings with automatic timer
5 brush heads are available
Works for all skin types
Waterproof and water submersible – safe enough to use in the bath or shower
Easy to use and takes under three minutes to perform a pulsating facial massage
Compatible with all skin types
60-minute running battery life on a single charge
Wireless charging
Comes in multiple colors and designs
How To Use A Facial Cleansing System
---
Michael Todd sonic facial brushes are simple to use:
1. Wash your face with your favorite cleanser and pat dry.
2. Apply your favorite serum, oil or cream to your chest, neck, and face.
3. Turn on the facial cleansing brush, following the automatic beep prompts for each area of your face, neck, and jawline. And don't forget your chest.
4. Massage in upward, circular motions to each area of your face and neck.
5. If you're short on time, focus on your problem areas only.
6. Rinse your face and pat dry.
7. Rinse the firming massage head and towel dry.
Brush Heads
---
The Soniclear brushes are suitable for all skin types, including dry, oily, combination, sensitive, and mature skin. Brushes are compatible with all Michael Todd Beauty devices, and are safe enough to use twice a day since they won't disrupt the skin's barrier.  The devices are waterproof and water submersible so you can use them in the shower or bathtub without worrying about them getting ruined.
The Soniclear Elite has six speed settings, and an automatic timer to prompt you when it's time to move to the next area. The Soniclear Petite comes with three speed settings and an automatic timer. Each available brush has buffed bristle tips. Five different antimicrobial brush heads are offered, and are interchangeable between devices.
A facial brush, which is ideal for removing dirt, makeup, oil, and other impurities (suitable for all skin types)
A body brush for whole-body cleansing and exfoliation (applicable for all skin types)
The Lush Cashmere facial brush for gently cleansing pores, fine lines and other imperfections, while boosting hydration (great for sensitive and mature skin)
A facial brush for sensitive skin, while still offering thorough, yet gentle cleansing (best used on sensitive, dry, and combination skin)
A sonic infuser brush head for applying creams and serums to the skin with maximum efficiency (applicable for all skin types)
Please don't share your brush heads with family members – each person requires their own. After all, you wouldn't think of sharing your toothbrush. Same idea applies here. Enjoy free standard shipping, free returns, and a 3-year warranty, along with top-notch customer service in case there's an issue with your device

What's Included?
---
What you'll receive when you buy the Soniclear Elite Bundle:
2 Soniclear Elite devices with C-Boost collagen technology
Charging cradle
Facial brush head with cover
Body brush head with cover
USB charging cord
What you'll receive when you buy the Soniclear Petite: 
1 Soniclear Petite device with C-Boost collagen technolgy
Charging cradle
 Facial brush head with cover
USB charging cord

Facial Cleansers
---
You can use your own serum and moisturizers with the Soniclear Elite and Soniclear Petite. However, don't use exfoliants – they're too rough, and could damage your skin. Foam-based cleansers and gels are refreshing and reduce excess oil and shine. A little goes a long way so use them sparingly. One dab is usually sufficient for a facial massage session.
There are cleansers that not only clean the skin, but soothe, nourish, and hydrate.  Pore and blemish gels that contain 2% salicylic acid can be used judiciously for those dealing with pimples and enlarged pores. If you have mature skin, you might want to consider using a cleanser with retinol or vitamin C.
Key Points
---
Elevate and upgrade your skincare routine with the Soniclear Elite or Soniclear Petite from Michael Todd Beauty. The devices are affordable, and once you fork out the initial investment, they'll last for years. Not only will your skin feel cleaner, firmer, and more hydrated, your complexion will also be brighter and more radiant. It's like having a delicious little spa in the comfort of your own home.
You will have to replace the brush heads every few months or so, but that's a small price to pay for being able to perform a mini facial whenever you feel like it, and with each use, you'll notice a visible difference in how you look. How much is that difference worth to you?! Read the reviews here. 
Have you used a sonic facial cleansing brush? If so, feel free to leave any tips and tricks that have helped you in the comment section below:)
Michael Todd Soniclear Elite Sonic Facial Cleansing Brush
Check Price on Amazon