We often hear of lasers for removing hair, but did you know lasers are now being used for hair loss as well? If you have alopecia, your hair is thinning and or your hairline receding, you'll definitely want to pay close attention to this iRestore Laser Hair Growth System Review. The iRestore uses low level laser therapy and LEDs to stimulate hair growth. This revolutionary technology could be what you've been looking for.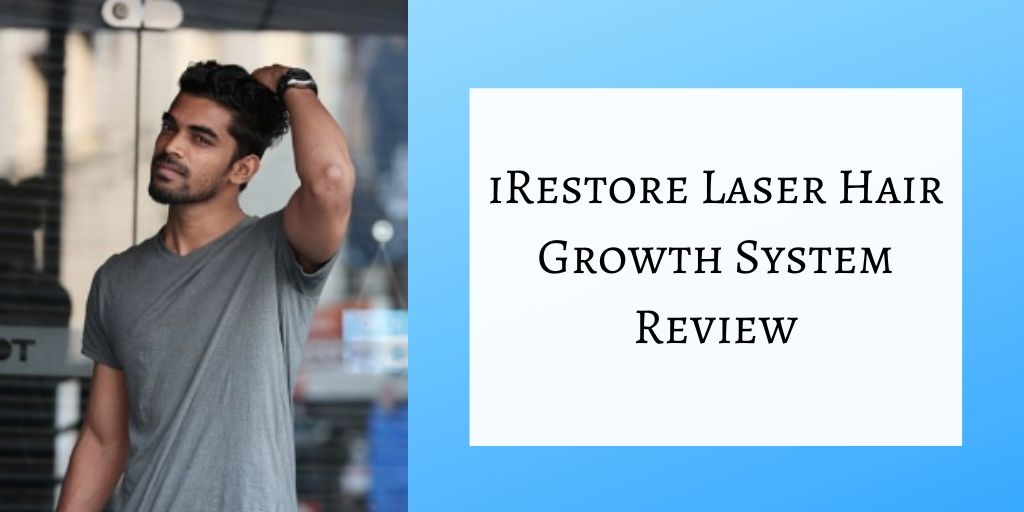 Because alopecia and hereditary hair loss is so prevalent in the United States, doctors are constantly on the hunt for possible solutions. Over 50 million people in this country alone are experiencing some type of hair loss, with men representing 2/3rds of this population.
Low Level Laser Therapy For Hair Loss
---
How does low level laser therapy work? In the 1960, a Hungarian scientist treated mice who had cancer with lasers. These mice quickly grew back their hair following treatment. The development of laser therapy is now being used to treat male pattern baldness, hair loss in women, and the autoimmune disease alopecia. It's even been used for hair loss following chemotherapy.
Lasers work via photons, which are delivered into the scalp to stimulate and repair damaged hair follicles. This process is called photobiostimulation. Cell metabolism is also stimulated, increasing ATP production to reverse hair loss and restore hair growth. Low level lasers emit wavelengths in the 630-670 nanometer range.
This post contains affiliate links, which means I may receive a small commission, with no cost to you, if you make a purchase through one of my links.
It is believed that lasers induce healing by enhancing circulation, although no double-blind studies can confirm these findings. It makes sense that better blood flow, delivering more nutrients and oxygen to the hair follicles on the scalp, would encourage hair growth. Lasers also reduce inflammation and rejuvenate aging cells, providing an ideal environment for hair growth.
Laser hair restoration therapy is now being used in clinics worldwide. It's safe, effective, non-invasive, and doesn't use harsh chemicals. Like every therapy, results will depend on your individual physiology. I like therapies I can do at home on my own time schedule, not to mention that home-based therapies are much more affordable.  Lasers offered at clinics could run you thousands of dollars per year.
iRestore Laser Hair Growth System
---
The iRestore Laser Hair Growth System is an FDA approved medical, laser-helmet device that treats hair loss in both men and women. Clinical studies by scientists and dermatologists have proven that the iRestore medical device regrows hair in virtually 100% of active users. I was initially surprised when I first saw the iRestore system, a helmet that radiated red light. Upon second glance however, I could see that it was a brilliant way to treat the scalp using low level lasers.
This system can be used alongside other hair loss treatments, and may even enhance them. This includes treatment with Rogaine, Minoxidil, Propecia, Finasteride, DHT blocker shampoos, and other hair growth products. The people behind iRestore believe in their system so much that they offer a six-month, 100% money back guarantee if you don't see results within that time frame.
When Will I See Results?
---
In fact, consistent users have seen visible hair regrowth in as little as three months, and this is wearing the device for 25-minute sessions every other day. There are 51 medical-grade lasers within the helmet. When placed on the head, these lasers are in close proximity to the hair follicles. Interestingly, laser therapy has been used to accelerate healing following hair transplant surgery.
To boost your results, check out this iRestore Shampoo
The iRestore was developed in GMP certified facilities, and is comfortable, lightweight, yet durable. It's simple to use, all you have to do is put it on your head and forget about it. This is a significant advantage over other laser devices that are hand held. You can see in the photo below what the iRestore looks like:
iRestore Laser Hair Growth System Pros And Cons
---
Pros:
Affordable
Effective
Simple to use
No side effects
Can be done at home
Non-invasive
No dangerous chemicals are used
Results can be seen in as little as three months
Cons:
Helmet must be worn every other day for best results
You must have some hair for the device to work
Treatment may be necessary long-term, although sessions can be reduced
Therapy is cumulative so patience is required
The iRestore system includes an AC adapter that can be plugged into the wall, as well as a battery pack in case you want to walk around while wearing the helmet.
Key Points
---
Laser therapy for hair loss is increasingly gaining ground. This isn't surprising since hair loss is a common condition.  If you want thicker, fuller, healthier hair, and you're willing to wear a laser-helmet three or four times a week for several months, the iRestore may be the perfect solution for you.
The iRestore works best if you are in the early to middle stages of hair loss. You have nothing to lose except the cost of the device and your time. You will have to be consistent, but laser therapy is safe, non-invasive, non-toxic, and affordable, especially when you compare it to expensive in-office laser therapies, and costly hair-transplant surgeries.
What do you think? Does laser therapy sound like a viable option for hair loss? Let me know in the comments:)