I bet you've never heard of an anti-aging oil that contains activated oxygen. You're probably scratching your head wondering how an anti-aging serum can contain something that we breathe. Well, hold on to your hats because you're in for a treat. Read my review of an amazing age-defying beauty oil called Pur03, which harnesses the power of nourishing botanicals, essential oils, and of course, activated oxygen.
Pur03 Anti-Aging Oil Ingredients
---
Pur03 anti-aging oil contains a broad range of nutrient-dense botanicals and oil to tone, hydrate, and keep the skin radiant youthful. Each ingredient was chosen for its therapeutic properties, including its vitamin, antimicrobial, and antioxidant profile. When combined, the oils have a magical synergistic effect to rejuvenate and revitalize the skin.
The serum is free of petrochemicals, additives, fillers, parabens, silicones, and artificial fragrances. It's also cruelty-free, organic, vegan, and suitable for all skin types. The serum can be used before moisturizing, and absorbs so well, it can be used before applying foundation.

Activated Oxygen
---
Activated oxygen, or ozone, is the secret sauce in Pur03. Ozone is a natural component of our atmosphere, and has long been used to purify water because of its powerful antiviral and antibacterial properties. This is why ozone is used extensively in water and air-purification systems, hospitals, dental offices, swimming pools, and the organic-foods and bottled-water industries.
The healing properties of activated oxygen can be captured and preserved by bubbling it through oil using an ozone generator. This is extremely innovative because ozone that is created naturally in the atmosphere, from the combination of oxygen and UV radiation, is short-lived, reverting back to oxygen within minutes.
Ozone differs from oxygen in that it contains three atoms of oxygen, instead of two. This additional atom is what makes ozone a potent free-radical scavenger and anti-microbial. The capability to preserve the life-giving properties of ozone within oil is nothing short of phenomenal.
Anti-Aging Oils
---
Argan, Avocado and Arnica Oils
---
Hailing from Morocco, argan Oil is not only a culinary staple, but is also prized for its ability to soften, hydrate, and restore elasticity in the skin to diminish the visible signs of aging. Rich in vitamin E, antioxidants, linoleic acid, phenolic compounds, and omega fatty acids, its robust fatty-acid composition makes it ideal for acne-prone and mature skin. It can also be used for inflammatory skin condition like rosacea.
[Read More: 5 Ways To Use Argan Oil]
Avocado oil is not used solely for culinary purposes either, it contains an impressive array of properties to moisturize and improve elasticity in the skin. Like argan oil, it's rich in fatty acids and vitamin E, and also contains lecithin, potassium, along with other nutrients to reduce inflammation and soothe dry, flaky skin.
Arnica oil is used in skincare for its healing properties, namely its exceptional fatty-acid profile, including linolenic, palmitic, linoleic, and myristic acids. It contains antioxidants to fight oxidative stress caused by free radicals. Free radicals are single atoms that have an unpaired electron. Because of this, they scavenge the body looking to find an electron to pair with their existing one. This can damage DNA and proteins, which is reflected in the skin as wrinkles.
Borage, Carrot Seed, and Partially Ozonated Jojoba Oils
---
Borage oil is an anti-aging oil used for its ability to hydrate the skin by forming a protective barrier that locks in moisture. Of all the seed oils, borage oil has the most GLA, or gamma linolenic acid, which is therapeutic for quelling inflammation. It also keeps the skin supple, while smoothing the appearance of imperfections in the skin.
Carrot seed oil is an anti-aging oil bursting with vitamins, including vitamins C, A, and E. Vitamin A prevents breakouts, hydrates the skin and accelerates healing. Vitamin C boosts collagen, is an antioxidant, and neutralizes free radicals. Vitamin E promotes healthy circulation, while combating the effects of oxidative stress. Carrot seed oil is used in beauty-care products for its ability to repair damage caused by UV radiation, and to stimulate new tissue growth. It brightens and tones the skin, as well.
[Read More: Vitamin C, A Natural Remedy For Beautiful Skin]
Partially ozonated jojoba oil is unique in that its structure is similar to the natural oils contained within human skin. It absorbs fabulously, won't clog pores, and regulates the production of oil. Combined with activated oxygen, it repairs, regenerates, and purifies, while hydrating and moisturizing. Ozone is a natural fungicide and antibacterial, which makes it a good choice for skin that is prone to breakouts and acne. Jojoba oil also functions as a natural preservative.
Macadamia, Sweet Almond, Rosehip and Sea Buckthorn Oil
---
Macadamia is one of my favorite oils for cooking. It's also outstanding for the skin due to its fatty-acid profile, which is similar in structure to human sebum, the oil produced naturally in the skin. This deeply-penetrating oil is a fantastic emollient that softens, moisturizes, and is particularly applicable for dry or mature skin that is lacking in oil. Macadamia oil contains oleic acid and squalene, both of which promote the regeneration of new cells.
Sweet almond oil contains the antioxidants vitamins E and A to retain moisture, reduce irritation, smooth fine lines and other imperfections, and protect the skin from damage caused from UV radiation. Vitamin A is beneficial for acne-prone skin, and defends against free-radical damage. It also reduces unsightly under-eye circles and puffiness, while promoting the production of collagen.
Sea buckthorn oil has received a lot of attention lately and with good reason. It soothes inflammatory conditions, such as acne, rosacea, and eczema, and is rich in antioxidants, essential amino acids, and omega 7, a rare fatty acid. The oil contains carotenoids, like phytosterols and beta carotene, which are beneficial for reducing swelling, inflammation, and redness. It also helps to restore elasticity in the skin, while promoting the regeneration of new skin cells.
Pumpkin Seed, Pomegranate, and Prickly Pear Oils
---
Pumpkin seed oil has a remarkable nutrient profile, including both omega 3 and 6 fatty acids, zinc and vitamins A, C, and E to firm, tone, and hydrate. Unsaturated fatty acids make pumpkin seed oil an excellent moisturizer, and effective at reducing the inflammation associated with acne. And since vitamin E is antibacterial, it reduces the bacteria that causes acne.
Pomegranate oil is known for its impressive content of ellagic acid, a polyphenolic antioxidant, that is able to protect the skin against UV radiation. It contains punicic acid, an omega 5 fatty acid, which is beneficial for repairing the skin, reducing inflammation, and fending off the damage caused by free radicals. It's also amazing for brightening and rejuvenating the complexion.
Prickly pear oil, a less-commonly known oil, is packed full of therapeutic nutrients that benefit the skin. It contains vitamin K, to stimulate the regeneration of new skin cells, while diminishing scars and age spots. It has omega 6 and 9 fatty acids, along with antioxidants, amino acids, and polyphenols, which aid in replenishing lipids that have been lost in the skin. This makes it an extraordinary moisturizer and emollient.

Essential Oils
---
Patchouli, Bergamot, Melissa, Helichrysum, Frankincense and Agarwood
---
Pur03 is formulated with essential oils to enhance and nourish the skin. Patchouli has a pungent, earthy aroma, and is both antifungal and anti-inflammatory. Bergamot has a fresh, citrusy smell, and is used for its anti-inflammatory and antibacterial properties. Melissa, or lemon balm, has a tart, sweet, aroma, is antimicrobial, and has been found to inhibit many common viruses.
Helichrysum has a pungent fragrance and is a popular remedy for treating inflammation. Its antimicrobial properties prevent skin infections, while promoting wound healing. Frankincense has a smoky smell, and is rich in boswellic acids that may prevent malignant cells from spreading. Agarwood has a sweet woody aroma, and is antibacterial, making it an effective oil for acne-prone skin.
Myrrh, Jasmine, Rose Absolute, and Sandalwood
---
Myrrh has a luxurious soft and spicy aroma, it was used in ancient times to embalm mummies due to its ability to slow decay. Its antibacterial and antimicrobial properties make it beneficial for skin infections, and it's also been shown to fight free radicals. Jasmine is one of my favorite essential oils, so much so that I always have some on hand. Its sweet fragrance is delightful and soothing. It is antiseptic, anti-inflammatory, and stimulates the healing of wounds.
Rose absolute has an intense, sweet fragrance. It's used for its astringent, antibacterial, antioxidant, anti-inflammatory, and antiseptic properties. It's chock full of phenols and vitamin C, and is useful for balancing pH in the skin. Sandalwood, another favorite of mine, has long been used in Traditional Chinese Medicine, and as an Ayurvedic remedy. This versatile oil contains phytochemicals that combat bacteria and promote wound healing.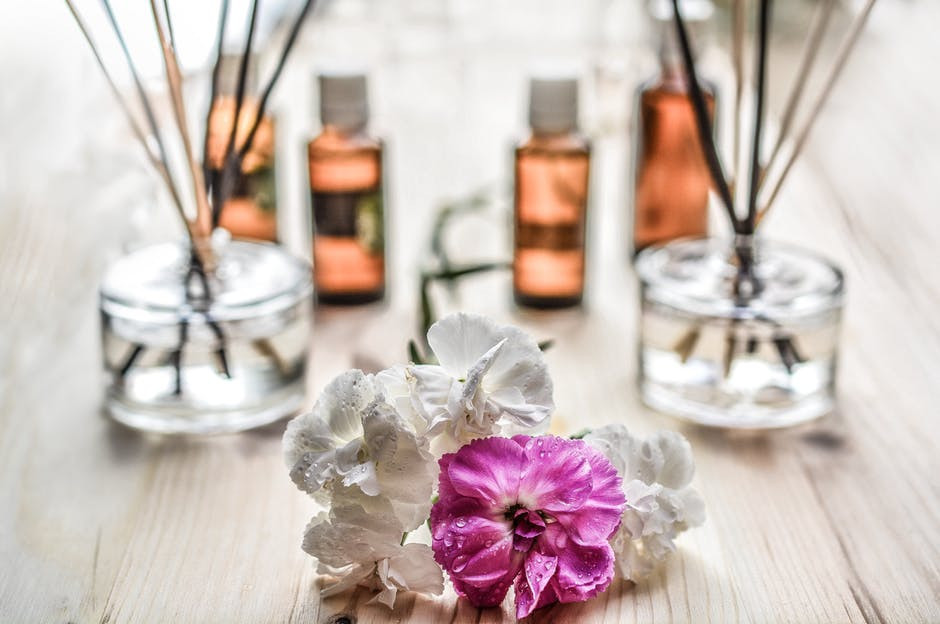 Key Points
---
If you've been looking for a moisturizing serum, you'll definitely want to learn more about Pur03 anti-aging oil. Not only does it contain a superb lineup of nourishing and healing ingredients, it's also formulated with ozone to supercharge its age-defying effects. Check it out here.
Have you used skincare products with activated oxygen? Let me know in the comments:)