Summer's just around the corner, and that means lazy days lounging by the pool, afternoons at the lake, and long walks on the beach. Are you dying to pull out your summer clothes but are self-conscious about your pasty skin that hasn't seen the sun all winter? Fortunately, there's a way to get a healthy glow fast and feel amazing in your short skirts and tank tops. Let's talk about spray tans and creams. Are self tanners safe?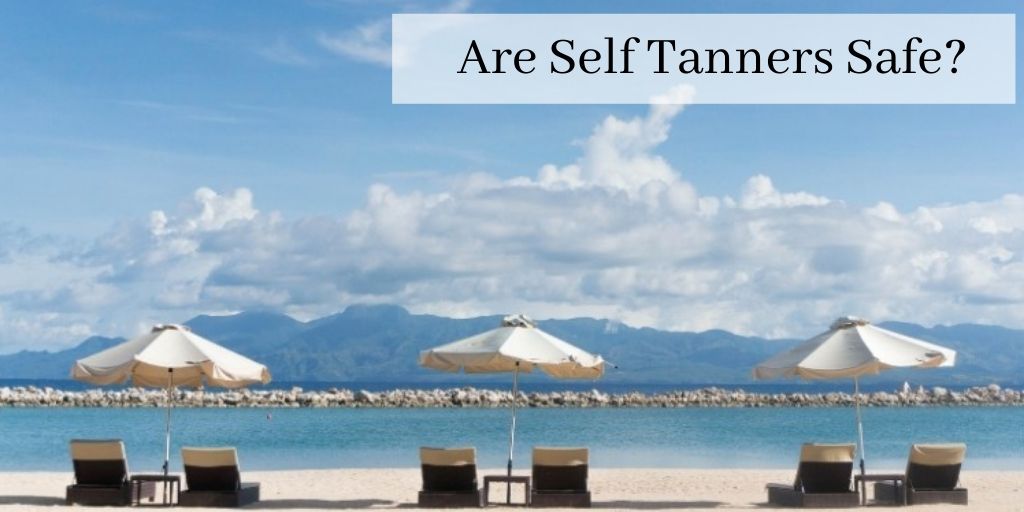 Self tanners are a quick way to get that coveted bronzed look without spending hours in the sun. Years ago when I played tennis and wore a tennis skirt all winter, I'd use tanning creams on my legs. Back then toxicity wasn't on my radar as much as it is now. Consequently, I haven't used spray tans for years because I've been leery of the chemicals they contain.
The History Behind Eco Tan Products
---
Sonya Driver is the founder and CEO of Eco Tan. She started her brand when her sister was diagnosed with melanoma. Since she and her sister had been getting weekly airbrush tans, Sonya began researching common ingredients contained within sunless tanning creams and sprays. To her dismay, she discovered they were full of toxic chemicals.
This was the genesis of Eco Tan, a line of sunless tanners that use only natural and organic ingredients. Due to the success of Eco Tan, body care and skin care products are now being sold as well. Eco and Eco Tan are founded on the belief of transparency and authenticity, and this is important because your skin is your largest organ, and what you apply to it is absorbed directly into your bloodstream. Food at least gets filtered through your liver, which isn't the case with body care products.
Eco Tan is Australia's first self tanner to become organically certified by Australia's Organic Food Chain. All products are certified organic, non-toxic, cruelty-free, and vegan. In this post, I want to introduce you to three fantastic self tanners that are easy to apply, buildable, and natural looking:
1. Eco Tan Cacao Tanning Mousse
---
Safe & Chic is a great online store that sells skin and hair care products, cosmetics, and bath and body care products, including self tanners from Eco Tan. I love so many of their products, but one of my favorites is definitely the self tanners. Not only do they look natural, but are awesome for smoothing skin and minimizing the appearance of cellulite.
Many self tanning lotions deliver less than stellar results, from going on unevenly, to having an orange cast, to appearing blotchy. We've all of tanning lotions and sprays, but what about tanning mousse? You'll be pleasantly surprised when I tell you how well it works, and it's formulated with only organic ingredients so there's no worry about added toxicity. Simply apply the mousse once or twice a week to build up a realistically looking tan.
Eco Tan Cacao Tanning Mousse is a multi-award winning self tanner that is lightweight, delivering a rich, creamy tan with just one application. Ingredients include aloe vera, witch hazel, chamomile, lecithin, grapefruit seed extract, cocoa fruit powder, coffee extract, ginger oil, mandarin essential oil, and a natural zesty scent. Product is free of synthetic fragrances, parabens, GMOs and artificial dyes, and is vegan, gluten, and cruelty-free.
Like all tanning products, apply to clean, dry skin. Exfoliating beforehand will yield even better results. Apply a generous amount of mousse to your hands and apply evenly to arms and legs. Additional coats will build up color. Let the mousse dry before dressing or going to bed, and wait at least six hours before showering.
Check it out here: Eco Tan Cacao Tanning Mousse
Watch the video below to learn more:
This post contains affiliate links, which means I may receive a small commission, with no cost to you, if you make a purchase through one of my links.  
2. Eco Tan Invisible Tan
---
How would you like to gradually develop a tan while you sleep? Now you can with just one application of Eco Tan's Invisible Tan before bed. Wake up with a darker shade of skin without worrying about staining your sheets. And it won't stain your clothes during the day either.
Like all Eco Tan products, Invisible Tan is formulated with all natural, organic, and soothing ingredients like aloe vera, avocado, rose geranium, macadamia, and chamomile. Product is free of artificial dyes including orange dyes, synthetic fragrances, GMOs and parabens. It's also gluten-free and vegan.
24 to 48 hours before using, exfoliate and shave the area you'll be applying the product to, focusing on elbows, knees, and feet. Apply Invisible Tan a couple times per week to clean, dry skin using circular motions, applying liberally and evenly to areas you want to darken. After application and before washing your hands, wipe the residue onto your feet, avoiding your heels.
Each additional coat you apply will gradually deepen the color. Let your tan thoroughly dry before dressing or getting into bed, and wait eight hours before showering to let your tan fully develop. Avoid soaps or products that contain oil as they may cause uneven tanning.
Learn more here: Eco Tan Invisible Tan
Check out the video for more information:
3. Eco Tan Face Tan Water
---
Eco Tan's Face Tan Water is the perfect solution for a subtle facial glow. It's great to use as a makeup base because your foundation will go on smoothly and last longer. It's also incredible for sensitive and acne-prone skin. The formula is lightweight, gentle, and is buildable, meaning the color will gradually build up following each application, and without any unsightly orange hues. Apply it as you would a toner with a cotton pad or cotton ball for even coverage.
And if you're ever tempted to skip your foundation altogether, Face Tan Water is a great substitution, especially on those hot, humid summer days when your foundation seems to melt. Apply it to your face, neck, and decolletage to smooth your complexion and brighten skin tone. It's antioxidant properties make it ideal for all types of skin, even when skin conditions such as eczema and rosacea are present. The formula is hydrating and non-comedogenic so won't clog your pores.
Face Tan Water contains hyaluronic acid which is great for locking in moisture on hot, dry days when your skin is dehydrated. Ingredients include aloe vera, rose geranium, orange peel, lecithin, radish root, and is free of synthetic fragrances, parabens, GMOs, and artificial dyes. It's also vegan and gluten-free, and is certified by the OFC, meeting Australian Organic & Bio-Dynamic requirements and standards.
Read more about Face Tan Water here
Watch the video below to learn how to use Face Tan Water:
Shake well before applying to clean, dry skin. Using circular motions, apply evenly to face, using either your finger tips or a cotton ball to gently blend underneath your eyes and into your hairline. Additional coats will deepen the color. Always thoroughly wash your hands after use.
You can apply a daily moisturizer over the tanner if you want, but it isn't necessary. Since it takes about four hours for a tan to fully develop, wait at least this long before showering for best results. Apply two to three times per week, and avoid products containing soap, retinol, or oil as they will strip your tan, making it patchy and uneven.

Key Points
---
I don't know about you, but I'm excited to wear my cool summer clothes now that winter is finally over. Self tanners are a great way to look amazing in your favorite shorts and summer dresses, giving you that extra burst of confidence! Give Eco Tan products a try and get a radiant, sun-kissed tan you'll enjoy all summer long.
Do you use self tanners? Let me know in the comments:)