If you're not aware of the benefits of marine collagen peptides for your skin, you're in for a treat. If you want radiant skin and thicker hair, you'll definitely want this product in your beauty arsenal. It's all about supporting your body's own collagen production, and unless you've been living under a rock, you know the importance of collagen for fantastic skin, hair, and nails. It's the protein associated with vitality, youth, and beauty, and it's easy to incorporate into your diet. Find out why I love it!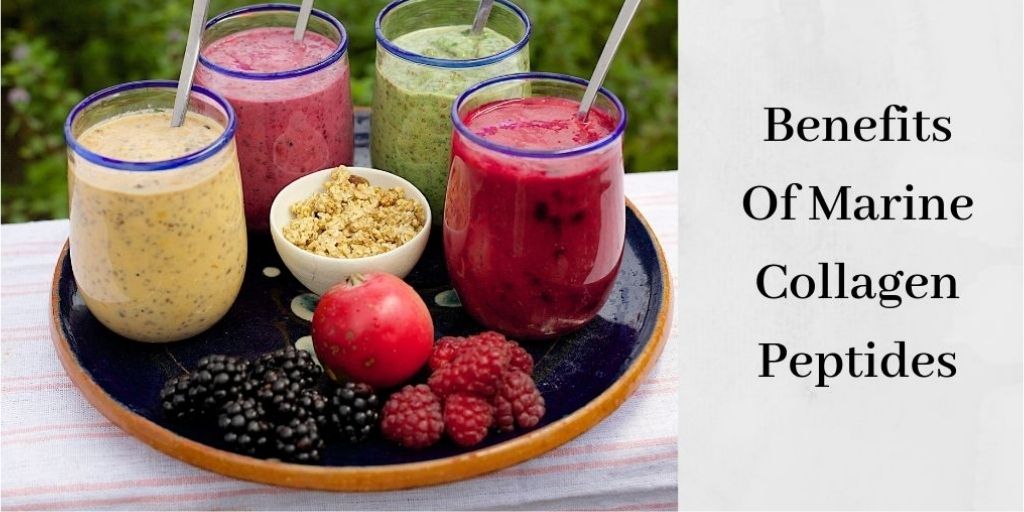 What Are Collagen Peptides?
---
Collagen is the most abundant protein in the human body, and is the "glue" that holds everything together. It is absolutely essential for good health, and especially for beautiful, youthful-looking skin. Where does collagen come from? It's derived from the bones, skin, and connective tissue of animals. Marine collagen peptides come from the scales, skin, fins, and bones of fish. Sounds appetizing, right? Don't give up just yet.
Now that you know what collagen is, what are peptides? Peptides are compounds comprised of at least two short-chain amino acids that are linked in a chain. They are derived from collagen.
This post contains affiliate links, which means I may receive a small commission, with no cost to you, if you make a purchase through one of my links.
How To Take Collagen Peptides
---
Marine collagen peptides could not be easier to take. Toss a scoop into your morning coffee, smoothie, or oatmeal. If you aren't able to digest whey or other protein powders, try peptides as they are super easy to digest. This is because they contain short-chain amino acids, have a low-molecular weight, and a small particle size.
Collagen peptides are hydrolyzed, meaning they are broken down for easier digestion and absorption. Soluble in water, peptides can be used in both cold and hot liquids. The unique structure, function, and composition of marine collagen peptides makes it a must-have for skincare and robust health. Interestingly, vitamin C stimulates collagen synthesis so consider combining collagen peptides with vitamin C for a double whammy collagen boost.
Type 1 Vs Type 2 Collagen
---
There are many types of collagen, for the purposes of this post, I'll be discussing Type 1 and Type 2:
Marine collagen peptides are rich in Type 1 collagen, which accounts for 90 percent of all collagen in the body, and is the strongest of all the types. It is found, not only in the skin, but in bones, connective tissue, intervertebral disks, teeth, and scar tissue.
Rich is the amino acids, proline, glycine, hydroxyproline, and alanine, essential building blocks of collagen, Type 1 should be taken separately from Type 2 collagen supplements to assure adequate digestion. Marine and bovine peptides provide mostly Type 1 collagen.
Type 2 collagen is produced by chondrocytes within the cartilage, and lubricates and cushions the joints. It makes up approximately 50 percent of the protein in cartilage, and includes glucosamine, chondroitin, and hyaluronic acid. This type of collagen is most abundant in collagen derived from chickens. Type 2 collagen, like Type 1, also decreases with age, but the effects are not as obvious and visible as is the decline of Type 1 collagen.
[Read More: Hyaluronic Acid [The Ultimate Hydrator]
Benefits Of Marine Collagen Peptides
---
Here are just a few reasons to consider taking marine collagen peptides:
Easy to digest and highly absorbable
Simple to take – no preparation required
Bioavailable
Low-molecular weight
Is abundant in Type 1 Collagen
Promotes healthy immune and digestive function
Benefits the central nervous system
 Fantastic for younger-looking skin
Promotes joint and bone health
Decreases free radicals
Stimulates fibroblasts and osteoblasts to build new collagen in connective tissue and bones
Improves skin elasticity, repairs nail beds, and promotes thicker hair
Hydrates and retains moisture in the skin
One caveat to be aware of when taking marine peptides is that they are high in calcium. The American diet is already abundant in calcium, so when using this product, make sure you are supplementing with magnesium – this is the best brand and form, hands down! We all should be taking magnesium daily as our soil is devoid of it so don't forget this important step when taking marine peptides.

Vital Proteins Collagen Peptides Reviews
---
There are many marine collagen peptide powders on the market today. The one I use is Vital Proteins Marine Collagen Peptides. You can buy it here. In one of the reviews a lady stated that one of her friends asked if she'd been getting botox. I thought that was awesome. This high-quality and sustainable product comes from wild-caught red snapper, is non-GMO, and doesn't contain heavy metals. One serving provides 12 grams of protein, and 3,736 mg of natural glycine. It is kosher, and gluten and preservative free.
You can also buy marine collagen peptides in capsule form or stick packs if you dislike taking powders, or want the convenience of capsules while traveling.
If the thought of fish isn't appealing to you, you can also buy beef or chicken collagen, which are also beneficial. Peptides come in different flavors including matcha, blackberry, tropical hibiscus, and strawberry lemon. Vital Proteins even makes a coconut collagen creamer.
If you have noticed the visible signs of aging in your face, bump up your defense strategy, by stimulating your own collagen production with marine peptides. And if you're suffering from leaky gut or rickety joints that don't move like they used to, the effect of peptides goes far beyond skin healing and repair.
They're also effective for healing the digestive system, and repairing joints and connective tissue. And don't not forget about your bones. Marine peptides stimulate osteoblast formation promoting a stronger bone matrix.
Key Points
---
Marine collagen peptides are full of Type 1 collagen to promote smoother, supple, younger-looking skin. If your goal is to look and feel better, start by tossing a scoop of this powerful protein into your morning smoothie.
Peptides are easy to take, rejuvenate the skin, and overtime, you'll notice some amazing benefits in your hair and nails as well. Collagen production begins its decline after the age of 30 so don't think this supplement applies to only those over 50. Why, exactly, would you not be taking this nourishing supplement?
Have you taken collagen peptides? What is your experience? Let me know in the comments:)