We all know how essential exercise is for a healthy body and beautiful skin. What if you could combine the benefits of exercise and catch up on your work at the same time? Now you can with the FLEXISPOT desk bike. Gone are the days where you have to choose between whether to exercise or whether to study. It's the ultimate in multitasking.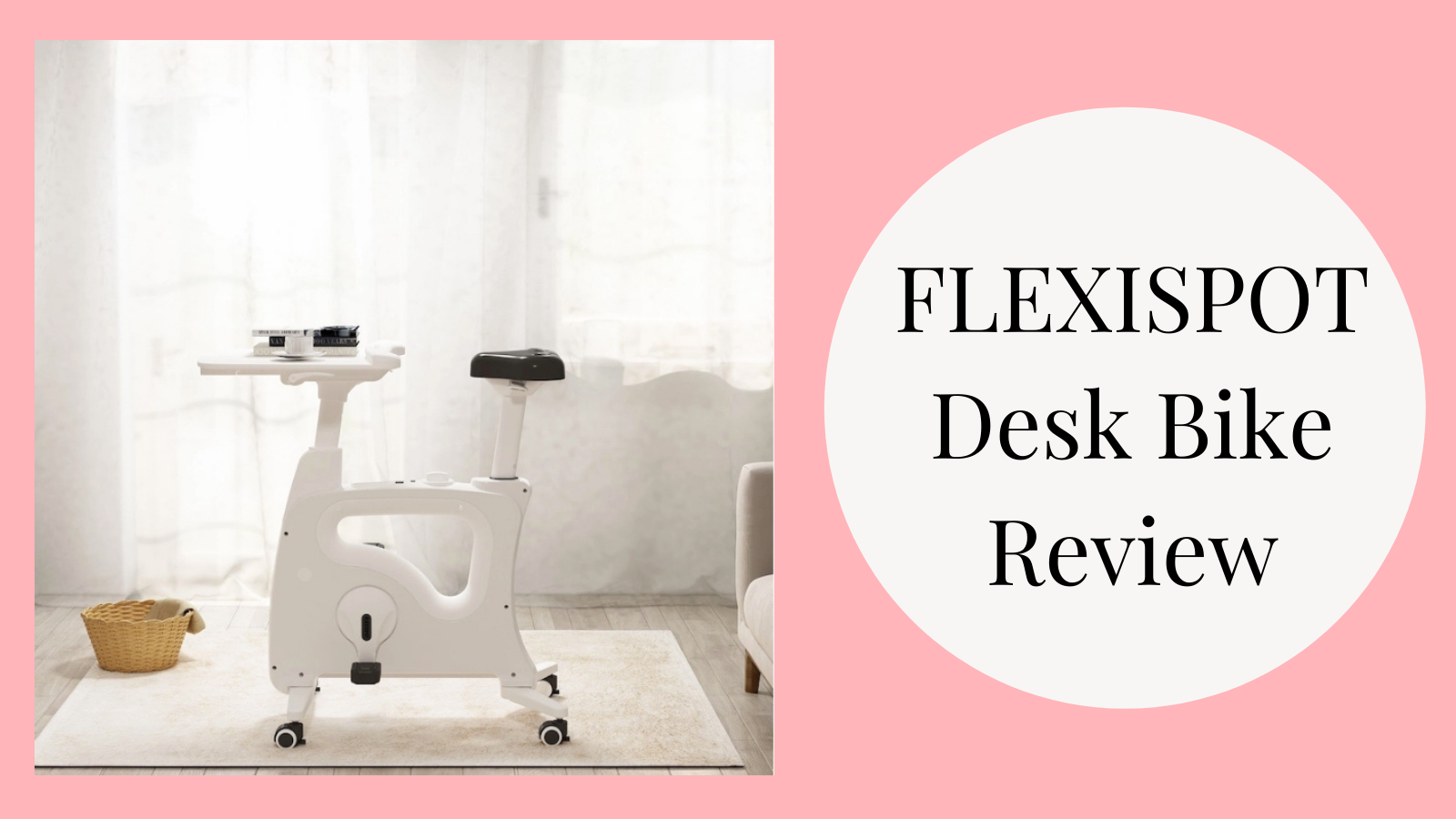 I know for many of you, finding the motivation and the time to exercise can be hard. Desk bikes make getting enough daily movement a cinch because you can catch up on tasks while you're working. The bike is sturdy, easy to assemble, and the rolling wheels make it portable. How awesome to use it on an outdoor deck in the summer!
FLEXISPOT Desk Bike Benefits
---
Getting outside in the fresh air and sunshine beats exercising indoors, but let's be realistic, there are many times where that isn't going to happen. The weather may not be cooperating, your bike may have a flat tire, not to mention it gets dark so early in the winter months. Indoor stationary bikes trump when it comes to convenience. The issue isn't what you'd rather be doing, but what you will do.
The battery-operated LCD display lets you track metrics, such as how much time you've spent on the bike, how far you've ridden, the RPMs, and how many calories you've burned. Stationary bikes are great for both short burst training workouts, and longer, less-intense exercise sessions.
If you can hop on a bike and pedal away to your favorite sitcom, the chances that you'll exercise go up exponentially. The convenience factor will always be huge. The FLEXISPOT desk bike is good for all ages, including students, stay-at-home moms, and the elderly, who are often sedentary. Kids will also enjoy it for releasing pent-up energy.
Pedal away while conducting an online meeting or when talking to friends. The bike is quiet enough that it won't be distracting to whoever you're talking to. You don't need to pedal so fast that you're breathless. Pedaling slow is still great for circulation and burning calories.The standing desk is sleek-looking, and will complement any space, including small areas. Benefits include:
Lose unwanted pounds
Increase circulation to joints
Improve mental clarity
Better quality sleep
Burn calories
Strengthen muscles
Improve BMI
Reduce cholesterol
Ease anxiety
| | | |
| --- | --- | --- |
| Lose weight | Better quality sleep | Improve BMI |
| Boost circulation to joints | Burn calories | Reduce cholesterol |
| Improve mental clarity | Strengthen muscles | Ease anxiety |
Moving While Learning
---
The FLEXISPOT desk bike enables learning while you move. Like most of us, I spend a lot of time sitting. It always amazes me how sitting can generate so many aches and pains. Jumping on a bike for even a few minutes, without interrupting your work flow, can alleviate stiffness and muscle soreness, while boosting circulation and mental clarity.
Once you get moving and the blood starts pumping, your motivation to move will increase, as will your focus. The desk is roomy enough to accommodate a laptop, a smartphone, and a couple of notebooks. The handy cup holder will conveniently hold your favorite beverage. And the best part? The bike is quiet. If you notice any rattling, tighten the screws, which will remedy the problem.
The desk bike comes almost entirely assembled, you'll just need to attach the desk, put in the seat, place batteries in the LCD, and tighten any loose screws. This is a huge advantage, and one you're likely well aware of, if you've ever had to put together something with a hundred pieces.
Fine tune the height of the seat and desk using the adjustment lever, which requires only a simple press. No need to make adjustments using bulky pins or knobs. You can also adjust the desk to be closer or further away from you. The FLEXISPOT is a must-have for both the home and office.
This could be the solution you've been looking for if you work full time, and are lacking the motivation to exercise. Biking is a great way to shed those unwanted pounds that have imperceptibly started to accumulate. You can also use the desk, without the bike, if you want to stand up while you work.
Disclaimer: "This post contains affiliate links. I earn on qualifying purchases."
Pros
Sturdy and compact, yet portable
LCD for displaying time, RPMs, calories, and distance
Adjustable resistance (settings range from 2 to 8+)
Easy assembly
Quiet and enjoyable to pedal
Adjustable desk height and seat
Convenient cup holder
Great for both home and office
Affordable
Sleek design will complement any room
Support heights from 5'1″ to 6'2″
Supports weight up to 300 pounds
Free shipping
Cons
---
Your tailbone may initially get sore if you're not used to riding an upright bike. This problem can be mitigated by using a gel seat for added comfort.
Bike does not support weights over 300 pounds
| | | |
| --- | --- | --- |
| Minimalistic design | 8 levels of resistance | Easy assembly |
| Sturdy caster wheels for portability | LED display | Weight capacity up to 300 pounds |
| Adjustable seat | Magnetic flywheel | Support heights between 5'1″ and 6'2″ |
Features
---
Minimalistic design
Sturdy caster wheels for portability
Adjustable seat
8 levels of resistance
LED display
Magnetic flywheel
Easy assembly
Weight capacity up to 300 pounds
Support heights between 5'1″ and 6'2″
Key Points
---
There's nothing more important than health. If you don't have it, that's all you think about. A desk bike is a great way to incorporate movement into your busy schedule.
Lose weight, optimize brain function, and boost circulation, all while multitasking.There's not a better way to invest in your health. Plus, it's more affordable than a gym membership.
What is your favorite way to work out at home? Let me know in the comments:)