Gua Sha Facial Treatment – Does It Work?
---
Chances are you haven't heard of Gua Sha. I hadn't either until recently. Also, referred to as the "Eastern Face Lift," Gua Sha is a Chinese medicine massage technique that purports to have many benefits. Some say it even rivals Botox. If you'd like to improve circulation, decrease inflammation, and rejuvenate your skin, Gua Sha facial treatment may be for you. But does it work?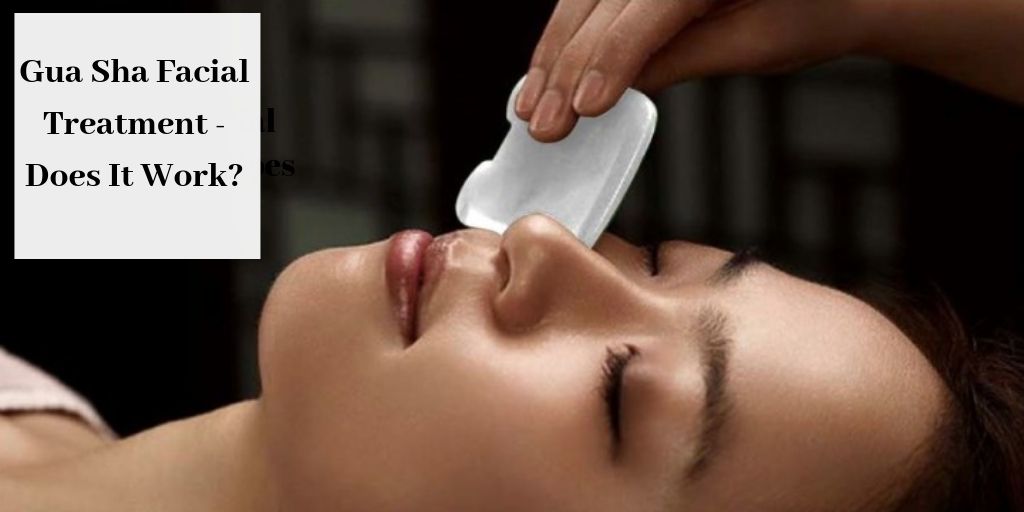 Dating back thousands of years, Gua Sha is the process of repeatedly stroking lubricated skin with a smooth-edged, but blunt instrument. See the picture above. By the way "Gua" is pronounced "Wah."
Strokes typically follow the acupuncture meridian pathways. Also, called "coining," "scraping" or "spooning," because through the centuries various tools have been used, including, coins, spoons and animal bones.
Gua Sha Facial
---
Here's a few of the benefits of this type of facial:
Reduces the appearance of fine lines and wrinkles
Promotes a radiant complexion
Decreases inflammation and puffiness
Promotes detoxification
Improves circulation
Lifts, firms, and plumps
Heals acne and other skin conditions
Lightens discolorations, such as, age spots
Decreases under-eye bags and circles
Reduced pore size
Anti-aging
Along with the many benefits listed above, Gua Sha is a simple technique that's inexpensive, effective, and only takes a few minutes to perform.
Gua Sha Massage Tools
---
The tools used for Gua Sha facials are most commonly made from jade or rose quartz. You'll see them in pink, green, and black. There are a variety to choose from so pick one that feels comfortable in your hand and on your face.
What are Rollers
---
Also available are Gua Sha rollers. I don't have personal experience with them, but you can watch the video below to learn more.
Fun Tip: Keep your stone and roller in the freezer. It will feel awesome when applied to your skin, especially when it's hot and humid.
Check this rose quartz set out here.
Or a jade Gus Shu that also comes with a roller.
And if you want a black stone, click here. It comes with a handy case to hold all four stones.
At Home Facials
---
Following the diagram above, use your tool to use gentle stroking motions. They are always applied upward. This is key because the point of Gua Sha is to tighten and lift, reducing sagging, and the effects of gravity. They don't call it a natural face lift for nothing. Rather than holding the tool flat to your face, it should be held at a 15 degree angle. This allows the skin to be gently pulled.
Begin by applying a lubricating oil to your face in order to make scraping easier. Light pressure is always used. Gua Sha can be done on the body, as well, where a more generous pressure is used. When doing a facial, however, gentle pressure should always be used as facial tissue is very delicate. A lot of pressure is not necessary to move lymph, which is one of the goals of Gua Sha.
Each upward stroke, on any given area, should be done approximately five times. You can do it more than this on your forehead if you'd like. One side of the face is typically done first, followed by the other side. If you'd rather, you can do one area, immediately repeating the same motion on the other side of your face. Do what feels good to you.
An efficient way to perform these motions is to use two stones, one in each hand, completing the motions on each side of your face at the same time. I'm impatient so this is how I do it. Your skin will be pink when you're finished. This is due to the boost in circulation.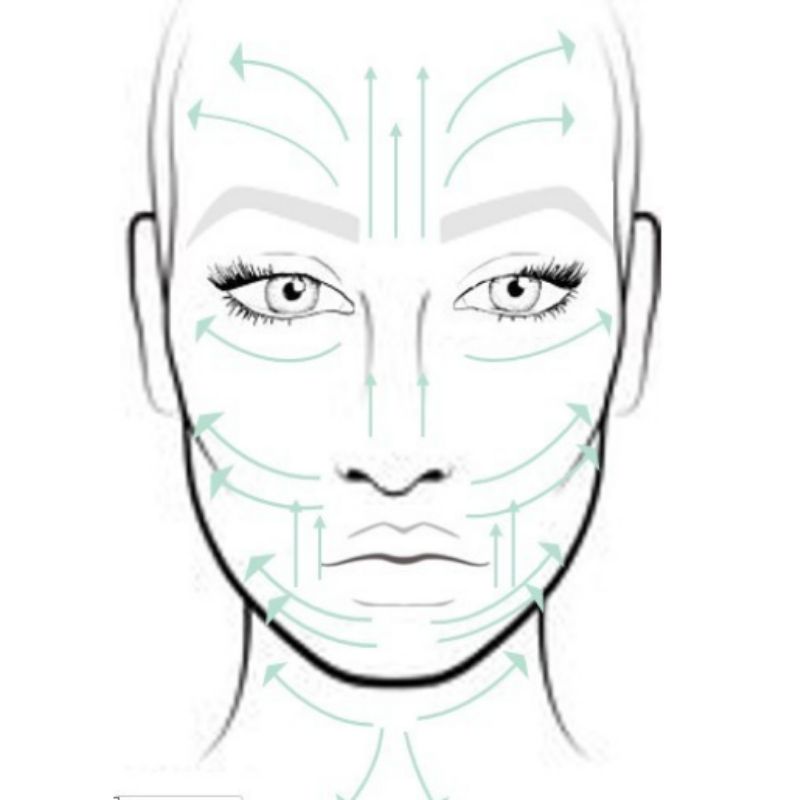 Here's How You Do It
---
Note the diagram above when performing your facial.
1. Position your stone at the base of your neck, gently stroking upwards to just underneath your ear lobe. Repeat this five times.
2. Now place the stone underneath your chin, stroking upwards to just below your ear.
3. Stroke from directly under your lips, and up towards your cheekbones
4. Now to the side of your nose, sweep horizontally and up along your cheekbone.
5. Gently stroke under each eye and slightly upwards.
6. Just above your eye, directly on the brow bone, sweep the stone from the corner of your eyes to your temple.
7. This next motion done vertically. Sweep the stone from the point in between your eyebrows up to your hairline.
8. Move the stones to your forehead and stroke horizontally from the middle of your forehead to your hairline.
9. Beginning in the middle of your forehead, close to your temple, sweep the tool outwards and downwards, following your hairline, and sweeping behind your ear. Now, make a downward stroke at your hairline, and down the side of your neck.
The goal of this last step is to move the stagnant lymph that the facial has begun to move. It is then drained though the lymphatic ducts that are located in between your collarbones. That's why this last motion is performed in a downward motion. Gua Sha is a detoxification and drainage technique.
The entire facial can be done in under ten minutes.
Does Gua Sha Work?
---
From what I've read of others' experiences with Gua Sha, along with my own, I can confidently say that Gua Sha facials do lift and firm sagging skin. This is a particularly helpful technique if you feel your face is puffy, which could be due to stagnant lymph. Not only is Gua Sha a form of massage, but is a great way to drain lymph.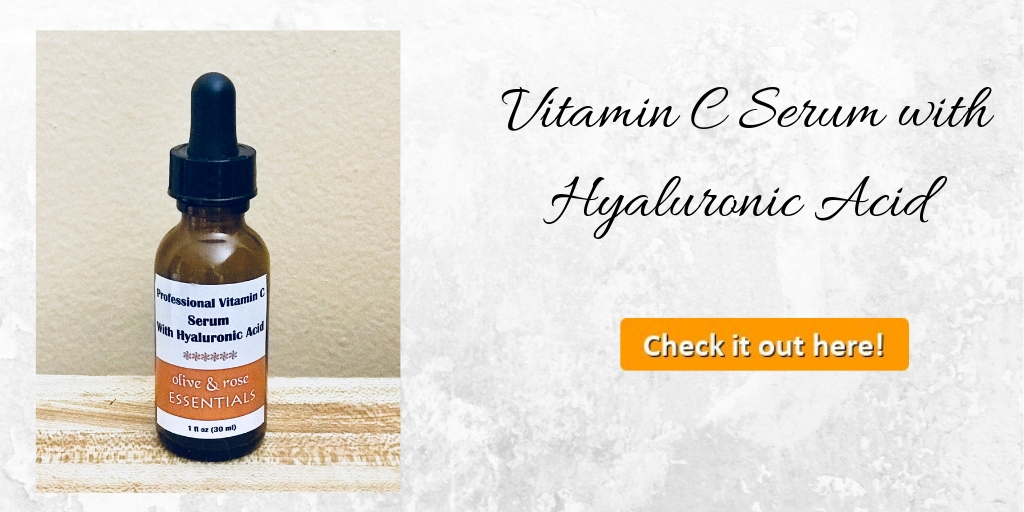 Key Points
---
Gua Sha is a fabulous technique you can do at home that is both time and cost-effective. It boosts circulation, promotes detoxification, while decreasing under-eye bags and circles. Plus, it's great for relaxation, and reducing tension. Gua Sha should be an integral part of any anti-aging, skin care routine.
Have you heard of Gua Sha? Would you like to try it? Please let me know in the comments:)