I would be lost without my flat iron. It's by far my favorite go-to beauty tool. Flat irons aren't just for straightening and taming frizzy hair, they're also amazing for creating incredible curls and luscious waves. If you're looking to replace your flat iron or want to try a different brand, check out my review of the 5 best rated flat irons.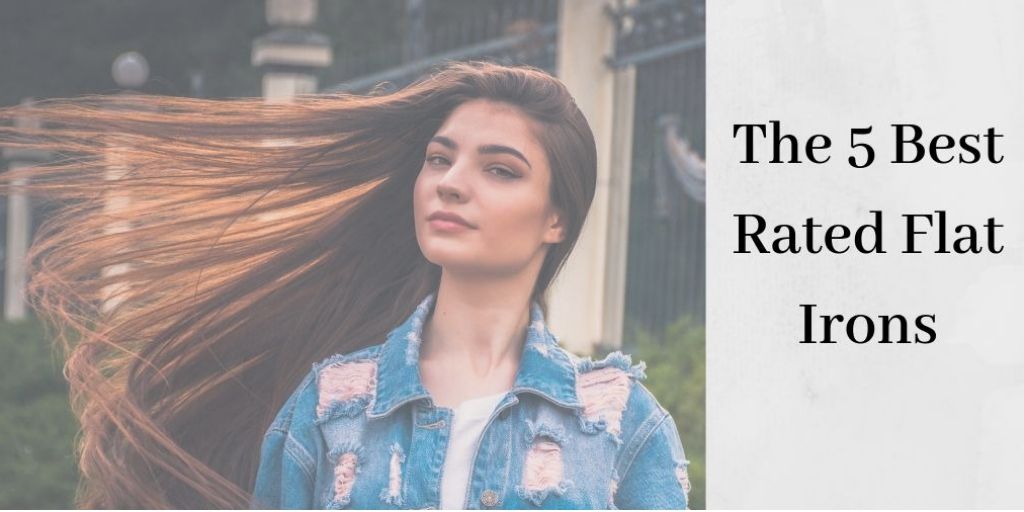 Important Features To Look For In A Flat Iron
---
What features should you look for before purchasing a flat iron? Here's a list of questions to consider before making your final decision:
1. How big are the plates? The plates are the part of the flat iron that heat up, and press against your hair. Plate widths range from 1.2 inch to 3 inches, with the average width being 1 inch. If your hair is long, I would consider going with a larger plate, and especially if you'll be using the iron to curl your hair, as well as straighten it.
2. What are the plates made of? Most flat irons come with plates made of titanium, ceramic, or tourmaline. Each of these materials has its own unique advantages.
 Ceramic is an inorganic metal compound that emits negative ions, which is a good thing because hair carries a positive electrical charge. Keep in mind, some manufacturers simply coat their irons with ceramic to save money. While they might not cost as much, irons with plates that are simply coated with ceramic likely won't work as well, and the coating will wear off over time.
Tourmaline is a crystalline gemstone that retains heat evenly, making it very effective for straightening, creating curls, and styling. Like ceramic, it also emits negative ions, and is generally a little safer for the hair then ceramic. Some plates are made with both ceramic and tourmaline.
 Titanium is a chemical element that is often used to coat the styling plates. Flat irons with titanium plates heat up extremely fast, and the heat is powerful. Titanium plates are great for people with naturally curly hair who want to create a sleek, tamed look, without spending a lot of time. However, the price tag is steeper for these types of irons.
3. How long is the cord? Flat irons with short cords are hard to maneuver. Make sure the flat iron you're considering buying has a long enough cord to make it convenient to use.
4. Does it have an automatic shutoff feature? I don't know about you, but there have been times I've left my straightener on, and had nightmares of my house burning down. Thank goodness for automatic shut-off, making this no longer an issue. And it goes without saying that the handle of your flat iron should always remain cool.
5. How much is the flat iron? Irons can range in price from $20.00 up to $150.00, and sometime even more.  Keep in mind, inexpensive flat irons may not work as well, and may even damage your hair. Pay attention to the size of the plates and what they're made of, and make an educated decision from there. Take into consideration how often you use a flat iron, how thick your hair is, if it's naturally straight or curly, and the condition it's in.
Consider buying a higher-end iron if you use one every day, or if your hair is thick, damaged, or naturally curly. Also, look for irons that heat up to at least 420 degrees. Now that you know what to look for in a flat iron, let's get to our fantastic contestants:
Best Rated Flat Irons
---
1. HSI Professional Glider

---
HSI Professionals has made an incredible flat iron that straightens, flips, and curls even the coarsest, frizziest hair. The ceramic plates use eight micro-sensors to evenly distribute heat and regulate temperature. This means that fewer passes are needed to straighten your hair. This not only saves time, but will prevent hair from heat damage. The plates are designed with both tourmaline and ceramic crystal ion plates, which leave straightened hair shiny, silky, and smooth.
The temperature settings can be adjusted from 140-450°, making the glider a good choice for all hair types. It's super convenient for travel as its compatible with both 110v and 220v.  And you'll love the 360° degree swivel cord that allows for easy maneuvering. In addition to the salon-grade flat iron, which comes with a 1-year warranty, you'll also receive the HSI style guide, a glove and pouch, and a bonus bottle of argan oil leave-in hair treatment to protect and smooth hair.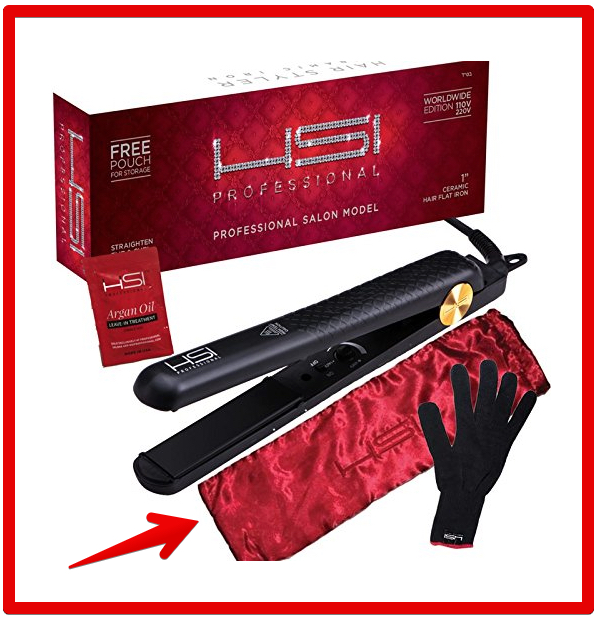 Features:
Salon-grade, 1st-generation flat iron
1″  tourmaline-infused ceramic plates
Temperature control ranges from 140-450° degrees
Neon LCD display
4.5″ tapered plates for styling large sections of hair
Pros:
360° swivel, tangle-free cord
Adjustable temperature control
Compatible with both 110v and 220v
HeatBalance technology with 8 micro-sensors
Negative ions reduce frizz
1-year warranty
Cons:
220v may not work in Australia
2. CHI PRO G2 Digital Titanium Infused Ceramic Flat Iron
---
The CHI PRO G2 flat iron has a sleek, ergonomic design for optimal comfort and control. The titanium-infused ceramic plates offer smoother glides and reliability for optimal polish and shine. The CHI PRO heats up in less than a minute, and boasts a color-coded digital temperature display with variable settings for different hair types.
Use the highest setting for thick hair that is coarse and resistant. Choose which size best suits your needs. Overall, the CHI is a versatile styling iron that will save you time and effort. More than just a flat iron, the CHI PRO is also perfect for creating waves and curls, and even comes with a cute carrying case. Unfortunately, it is not eligible for international shipping.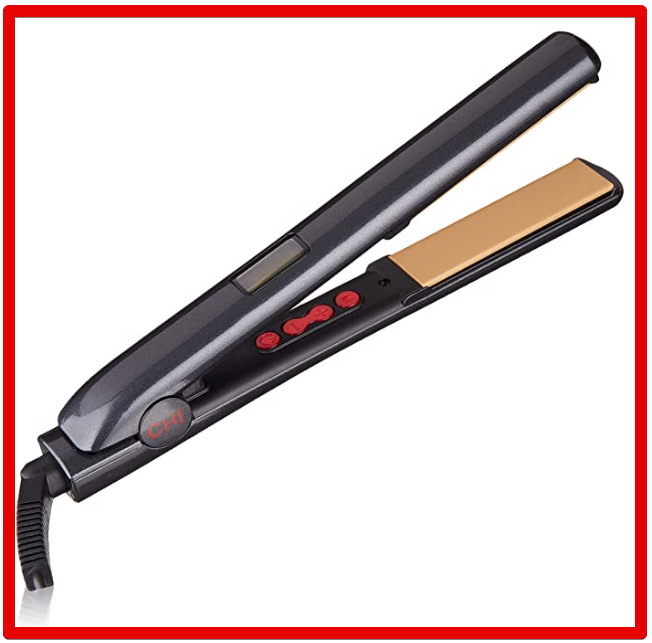 Features: 
Titanium infused ceramic plates
Max temperature is 425°
Sleek ergonomic design
Color-coded digital temperature settings
Pros:
2 size options
Heats up in 40 seconds
Dual voltage
Provides moist heat
Cons:
2-year warranty not valid if purchased online
No international shipping
3. RUSK Engineering Heat Freak Str8 Professional Ceramic / Tourmaline Flat Iron
---
The Heat Freak premier straightener incorporates innovative technology, to not only straighten your hair, but to leave it smooth, silky, shiny, and frizz-free in the process.  Reaching 450°, the RUSK can effortlessly straighten hair without damaging it, and is particularly useful for bleached and damaged hair.
Choose between 1-inch or 1 1/2 -inch ceramic, titanium-infused plates, depending on your hair length. The larger sized plates are better equipped to handle long hair. Designed for heavy use by salon professionals, this heavy duty flat iron comes with a generous two-year warranty. Achieve fantastic results by pairing the Heat Freak with RUSK's thermal protective serum.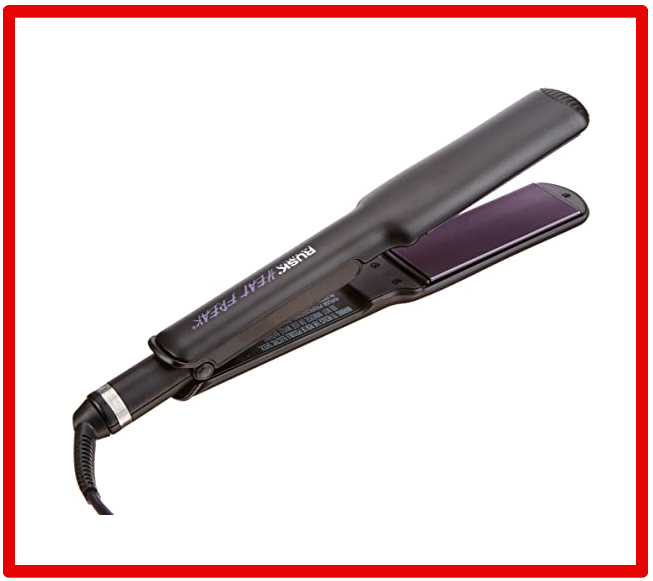 Features:
Ceramic and titanium plates
Designed for heavy use by salon professionals
2 size options: 1″ and 1 1 /2″
Temperature ranges from 410-450*
Affordable price for a premium product
Pros:
Superb for damaged or bleached hair
Good for hard-to-curl hair
Curved plates for creating spiral curls
2-year warranty
Cons:
May not work as well on extremely curly hair
4. Karmin G3 Salon Professional Hair Straightener
---
The Karmin professional flat iron has 1″ ceramic floating plates for ease of use, and negative ions, along with infrared heat to protect hair, reduce frizz, and seal in natural oils. With adjustable temperatures ranging from 210-460 degrees, you're sure to find a setting perfect for your individual hair type.
This straightener comes in three different colors: black, blue, and purple. The dual voltage feature makes it convenient for traveling, and the automatic shut-off is ideal for peace of mind. If your hair is unruly and unmanageable, this iron is definitely worth checking –  one pass over your hair is enough to do the trick!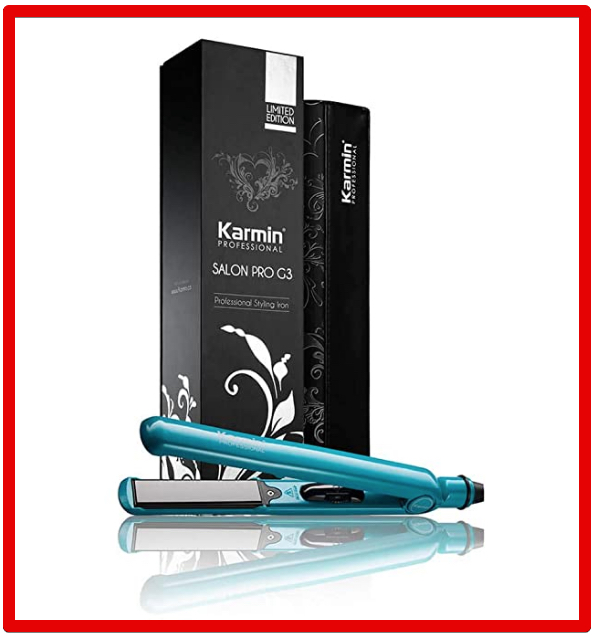 Features:
1″ ceramic floating plates
Negative ions and infrared heat
Adjustable temperature from 210-460°
Professional grade heating element
Pros:
Dual voltage
Comes in 3 different colors
Automatic shut-off
3-year warranty
Cons:
Warranty applicable only when purchased from authorized dealer
5. H2Pro Black Diamond Tourmaline Flat Iron
---
Do you have short hair? If so, the H2Pro Black Diamond flat iron may be an extraordinary fit for you, although it's great for medium-length and long hair as well.  With three layers of baked ceramic and tourmaline plates, this straightener gets the job done.
The negative ions seal in moisture and ensure maximum shine. Weighing only a pound, the Black Diamond iron is easy to maneuver, and won't strain your wrists. The body is made of DuPont plastic, making it durable, yet lightweight. This iron isn't cheap, but is worth the cost as it's extremely high-quality, and will last a long time.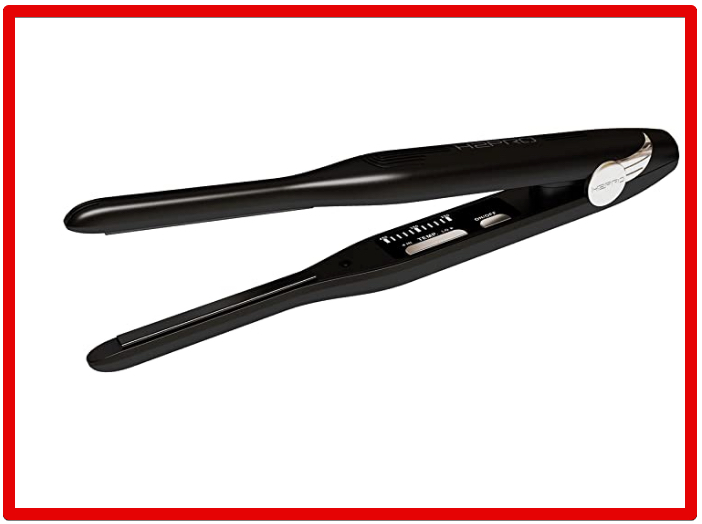 Features:
Ceramic and tourmaline plates
Negative ion titanium plates
Plates are infused with diamond dust
Frame is made from DuPont plastic
Pros:
Dual voltage
9 ft. 360° swivel cord
Semi-digital read out
Durable yet lightweight
Cons:
 May be better for short hair
Key Points
---
A well-performing flat iron is an indispensable tool for any beauty arsenal. When looking to buy a flat iron, look for how big the plates are, and what they're made of. Also, look for features, such as the length of the cord, dual voltage, and automatic shut-off. All these features will determine how the iron performs. Have fun choosing the perfect flat iron!
What flat iron do you use? Let me know in the comments:)
This post contains affiliate links, which means I may receive a small commission, with no cost to you, if you make a purchase through one of my links.