Are you a scrubber. Huh? I am and I'll tell you why. Let me begin by saying that "scrubbing" is a lot funner to say than "exfoliation." Exfoliation is using an abrasive substance to remove dead skin cells. That's it. There's no more to it than that. This simple skincare technique packs a big punch though, and is why I'm such a huge fan. How often should you exfoliate?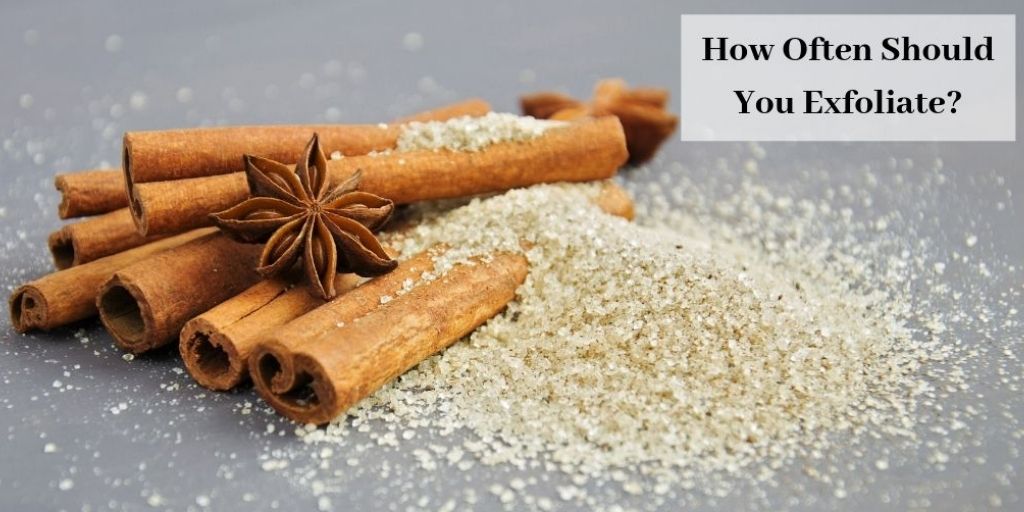 Microdermabrasion and chemical peels are two forms of exfoliation that you're most likely familiar with. The most basic form of this anti-aging strategy can be done at home, two to three times a week, using ingredients you already have in your pantry.
Don't Forget This Important Step
---
Here's a visual for you – ever wondered why men don't have wrinkles around their mouth? Because every time a man shaves, he's exfoliating. Do I have your attention? Testosterone doesn't hurt either as it lubricates the skin, and stimulates collagen production.
Let exfoliation be another weapon in your anti-aging arsenal. Removal of dead skin from the surface of the epidermis prevents pores from becoming clogged. This is a big deal because clogged pores lead to blackheads, acne, and breakouts. They also appear larger, and exfoliation is a great tool to diminish their size.
The best part of exfoliation is the instant gratification you'll get. You'll notice improvements in your skin immediately after scrubbing. Get that clean, refreshed look with this simple rejuvenating technique you can do from home.
[Read More: Menopause And Collagen]

Benefits Of Exfoliation
---
Dry winter weather leads to dull, lackluster skin caused by a build up of dead skin cells. The main purpose of exfoliation is to slough off all that dead stuff to reveal more youthful-looking skin. Cleanse, tone, moisturize – we've heard it our entire lives, but I don't think exfoliation gets its due. Why should we include this important step in our skincare routine?
Be a scrubber to speed up your skin's natural process of renewal. You'll also get more bang for your buck with your serums and lotions because freshly-scrubbed skin allows moisturizing ingredients to penetrate more deeply.
Affiliate Links ✔️
Try This Simple But Effective Method
---
This is rocket science so hold onto your hats. Get a clean glass jar and fill it one third of the way with white sugar. Then add a few shakes of sea salt. Now fill the remainder of the jar with brown sugar. I sometimes use organic cane sugar or sucanat in place of brown sugar. Use what you have, and don't spend more than five minutes making your scrub.
Now shake it really good to mix the three ingredients together. That's it – you're done! I don't use any wet ingredients like oil. I used to, but have found over time, that I prefer using just dry ingredients. To finish your concoction, sprinkle in a drop or two of your favorite essential oils.
Here's how it's done:
1. Wet your hands with a little soap and water.
2. Next, dump a little of the dry mixture into your soapy hands.
3. Coat your face and gently scrub in circular motions.
4. Don't forget your neck or decolletage, which is just an extension of your face. Who wants a radiant-looking face, and an old-looking neck. Uh, no! You want them to match.
5. That's it for this complicated technique. Do this twice a week to keep your face looking fresh and vibrant. You also have the option of using exfoliating mitts.
6. If you exfoliate at night, apply vitamin C serum over your newly-scrubbed skin!
You can also buy pre-made scrubs if you'd rather not make them yourself.
What's Not To Like?
---
The best part about this whole deal is it's cheap, quick, easy, and it works! You'll notice right off that your makeup goes on much smoother with better coverage. There are no nasty preservatives or chemicals to contend with – just natural ingredients that do the trick. Get creative – you can use other ingredients too, such as, oatmeal, coffee grounds, or ground-up citrus peels.
The citric acid these peels contain is wonderful for the skin. Use it to treat acne, clogged pores, pigmentation and dark spots. If I remember, I'll toss a tablespoon or two of citric acid powder into my scrub.
Traveling anytime soon? I bring my scrub, but not to worry if you forget, go snag those little sugar and salt packets that hotels always have by the coffee machine. Voila, instant scrub!  No excuses now…
Key Points
---
I love how my skin feels after a good good scrubbing session. Commit to exfoliation a couple of times a week to invigorate your skin, and bring out your natural beauty. It's a great anti-aging tool.
If you love giving DIY gifts, like I do, why not give the gift of beauty, and whip up some cute-packaged scrubs for Mother's Day, Christmas, or someone's birthday? Embellish with a cute tag, sticker, or ribbon, and you've got yourself a homemade gift that is both fun and practical. Who doesn't love the gift of skincare?!
Do you exfoliate? What's your favorite technique? Let me know in the comments:)