Some scents are timeless. We never get tired of them, that's how good they are. They stick in our memory like grandma's apple pie. Whether your taste is fruity, floral, musky or simply romantic, the perfect perfume fits like a charm. Do you have a signature scent? I sure do, and it's got just the right amount of spicy snap. Ever wondered what the top 10 fragrances for women are? Look no further than the list below.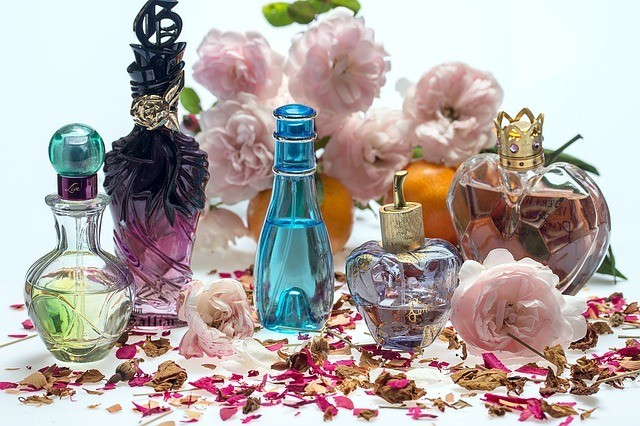 How Perfume Is Made
---
Have you ever wondered how perfume is made? You've most likely heard the terms high, medium, and base notes. It's really quite fascinating how it all comes together. Perfumes are a blending together of different scents or notes:
1. Top notes: Also called opening notes or head notes, top notes are the lightest of all the notes. They're what you smell first when you spray a fragrance on your skin. You know that first impression you get when smelling a scent? That's a top note. Although potent initially, these light notes fade after a few minutes due to their light molecular structure.
Top notes that are frequently used include citrus scents, such as, lemon, orange, bergamot, and grapefruit. Clary, sage, rosemary, mint, neroli, and lavender are also popular top notes.
2. Middle notes: Also call heart notes, middle notes move in after the top notes have evaporated. These notes are the heart of the scent, also referred to as the core. Longer lasting than top notes, middle notes strongly influence the base notes that follow. Middle notes determine which family the fragrance belongs to, whether it's fresh, floral, oriental, or woody.
Black pepper, cardamom, chamomile, cinnamon, clove, fir needle, jasmine, juniper, lemongrass, nutmeg, rose, rosewood, and ylang-ylang are often used as middle notes.
3. Base notes: Also known as a fragrance's theme or foundation, base notes accentuate the middle notes. If it weren't for base notes, a scent wouldn't last for up to five hours. Thank you base notes!
Popular base notes include pine, cypress, sandalwood, ginger, vanilla, vetiver, patchouli, and cedarwood.
Putting It Together
---
Various forms of aromatics are used to make perfume. These include essential oils, leaves, herbs, and flower petals. When formulating a fragrance, base notes are added first at a ratio of 20%, followed by middle notes at a ratio of 50%, and finishing off with the top notes at a ratio of 30%. But first you'll need a carrier oil to add the notes to. Common carrier oils are almond, olive, jojoba, or grape seed oil.
Alcohol is used in fragrance making as a fixative, holding the individual elements together in suspension. It is also a preservative, allowing the perfume to last longer.  Alcohol is a great choice because it evaporates quickly, helping to diffuse the notes. That's a very broad overview of how perfume is made. Certainly, there is a lot more to it, but that gives you a basic idea of how it's done.
Favorite Fragrances For Women
---
Now for our winners in no particular order:
1. Love Story by Chloe: Entice your senses with the delicate notes of neroli, jasmine, and orange blossom, while enjoying the earthy tones of cedar and musk. Richly aromatic, Love Story is both pungent, and sweet. Gentle, unobtrusive, and heady, this delightful fragrance won't disappoint.  Check Love Story out here.
2. Chanel: Chance Eau De Toilette Spray: This timeless classic embodies femininity and sophistication. Bold and spicy, yet somewhat fruity, this fragrance is nothing short of unforgettable. Bulgarian rose, mimosa, clove, and amber blend together to make this oriental scent the perfect combination of seductive innocence. Purchase here.
3. Angel: Our list wouldn't be complete without this super star. The perfect marriage of musk and citrus, this luxurious scent, includes coconut, orange, cassia, bergamot, apricot, orchid, amber, musk and vanilla. It's simply irresistible. Read the reviews here.
4. Black Opium: If you love the smell of coffee and vanilla mixed with cedarwood, you'll absolutely adore this sultry fragrance by Yves Saint Laurent. Strong, yet sweet, this scent epitomizes vibrant sensuality. Learn more here.
5. Dolce & Gabbana Light Blue Eau De Toilette Spray: This eau de toilette spray is for women who crave the scent of a sunny, breezy, endless summer day. Fruity, floral, fresh, and lively, Light Blue evokes sensuality, seduction, and a zest for life. Feminine, strong, and sultry, this is fragrance is a non-negotiable for the busy woman on the go.  You can buy it here.

6. Fracas De Robert Piguet: Simple and intoxicating, this glamorous fragrance has received rave reviews the world over. Peach, sandalwood, jasmine, iris, and orange, make this aromatic potion a mesmerizing classic. You can purchase here.
7. Versace Bright Crystal:  Voluptuous and dreamy, Bright Crystal is the perfect blend of luscious pomegranate grains, magnolia, peonia, and lotus flower. Undeniably feminine, and deliciously sweet and soft, this scent is sure to get you noticed. See more here.

8. Coach New York Eau De Parfum: Coach Signature is a classic fragrance for the modern woman. If you're looking for a timeless splash of sophistication that will stay on all day, look no further then this traditional perfume that's sure to make a stir. Top notes consist of fresh citrus, coupled with orange blossom and cedarwood. A little dab of this amazing scent will go a long way, and hey, any perfume that hails from France is sure to be a winner in my book.  Read what others are saying here.
9. Daisy: Charmingly simple, this lovely signature scent by Marc Jacobs is light, chic, and playful. Bursting with sweet strains of strawberry, jasmine, and violet, this velvety and passionate elixir will linger long after the party's over. Check Daisy out here.
10. Dior Hypnotic Poison: Can't get enough of vanilla? You'll love this edgy, intoxicating fragrance. Caraway and cinnamon add a touch of spice to this exotic scent, with a splash of almond rounding out the notes. Want to make a statement? You've met your match with this perfumed poison. Purchase it here.
There you have it. 10 intriguing perfumes you can't help but love. Which one best reflects your individuality? Fresh, floral, oriental, or woody?
Key Points
---
Smell is primitive, and so powerful in its ability to evoke past memories and emotions. Could this be why women adore perfume?! I love my signature scent. In fact, I love it so much, I carry it in my purse for easy application. It's almost like I'm not fully dressed without it. Perfume is one of those indispensable accessories I can't live without. The power of smell is real. Harness this amazing force with your own signature scent!
How about you? What is your favorite perfume? Let me know in the comments:)
This post contains affiliate links, which means I may receive a small commission, with no cost to you, if you make a purchase through one of my links.