Did you know you'll spend one third of your life in bed? It's really quite staggering! That means that a ninety-year-old woman would have spent thirty years of her life sleeping. As you age, it's a smart practice to choose a pillow that prevents wrinkles by reducing the continuous pressure on your face as you sleep. Let's learn more about how to prevent wrinkles while you sleep.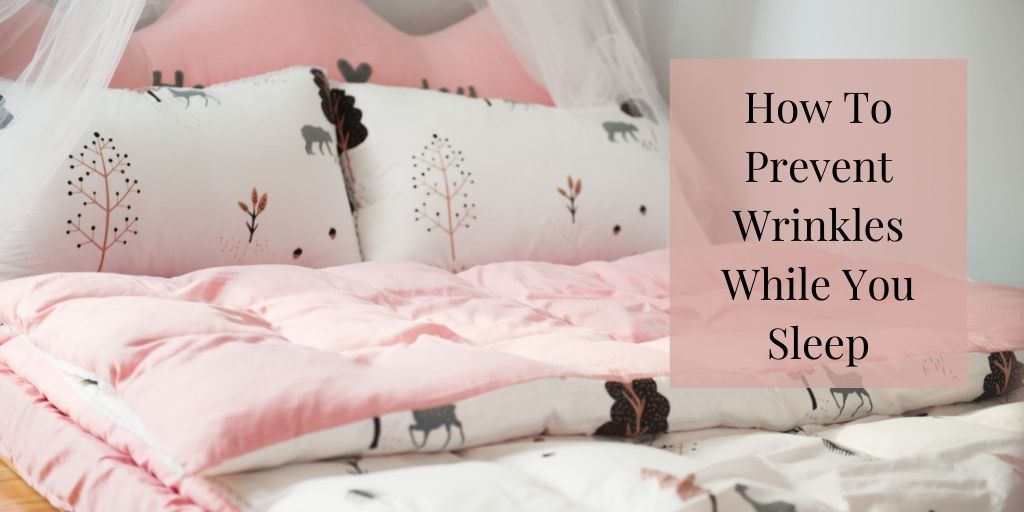 No more smushing and smashing your delicate face every night. You really can slow down aging by tweaking your pillow. Then your sleep really will be beauty sleep. Here are 5 pillows that will keep you young longer.
Pillows Prevent Wrinkles?
---
There are two types of aging: intrinsic and extrinsic. As it sounds intrinsic aging results from internal factors, such as, collagen degradation, and reduced skin resiliency caused by a reduction in elastin. Extrinsic aging is caused by factors more controllable, including UV radiation, smoking, free radical damage from poor dietary habits, over-exercising, chemical exposure, inflammation, and stress.
Where does sleep fit in? In my opinion, how you sleep contributes to both intrinsic and extrinsic aging because the way you position your head on your pillow can cause tension and compression, leading to creasing, sagging, and loose skin. Wrinkles can form due to this continual compression, pressure, and tension, breaking down collagen and elastin, the main culprits behind sagging and wrinkling.
Sleep positioning is something within our control so is a characteristic of extrinsic aging. And since a wrinkle is a fold or crease in the skin, and sleeping incorrectly causes creasing, bring out the big guns, and do what you can to prevent them.
For Those Of Us Over 40
---
Younger people won't notice this, but once you reach 40 and beyond, the way you sleep could exacerbate the visible signs of aging because of the gradual decline in these skin matrix proteins. This is why pillows designed uniquely for wrinkle prevention are worth considering. And just in case you're wondering, another name for a wrinkle is a rhytide. So worry about your rhytides, not your wrinkles!
These pillows are specially designed to keep your cheek out of direct contact with the pillow. The secret sauce lies in their sophisticated design and shape. They work well for both back and side sleepers. Pleeeeease don't sleep on your stomach if you're concerned about getting wrinkles or making the ones you have worse. Of course, you don't need to even think about buying a wrinkle-prevention pillow if you sleep on your back! Problem solved right there…
How To Choose A Pillow
---
Since you'll be spending eight hours sleeping on your pillow every night, you want to make sure the pillow you purchase has certain features:
* Comfort: Uncomfortable pillows are the worst. Comfort is everything. Nothing is worse than a pillow that kinks your neck.
* Construction: What is the pillow made of? This could be memory foam, latex, synthetic fiber fill or down just to name a few. Also, the quality of the construction is paramount as you'll want your pillow to last awhile, and keep its shape, especially if the initial investment is hefty.
* Cost: If you're tight on money, cost will, obviously, be an issue.
* Care: Can the pillow be laundered and does it come with pillowcases? These are important questions to ask before buying.
How To Prevent Wrinkles While You Sleep By Choosing The Right Pillow
---
Okay, now that we know what we're looking for, take at peek at these pillows:
1.
SLEEP YOUNG Anti-Wrinkle Pillow
---
Ergonomic cervical anti-wrinkle beauty pillow
100% polyurethane memory foam core
Weight is 5.29 pounds
Dimensions are 20 x 16 x 5.47 inches
Great for side sleepers
High-quality, soft, yet sturdy
Beautiful packaging
Accommodating to both high and flat pillow users
Pros:
Supports the neck and shoulders, while keeping the spine in alignment
Anti-wrinkle and anti-aging
A great option for those with TMJ, Trigeminal Neuraligia or other facial issues
Removes pressure from the face
Provides excellent support for those with cervical degenerative disc disease
Bamboo fiber pillowcase
Machine washable
Manufacture offers a 10-year warranty
Free Shipping and returns
Cons:
There's a little bit of a learning curve
Comes in one size and one color only

2. NIGHT Anti-Aging, Oxygenated Memory Foam Pillow
---
Features:
Self-adjusting polyurethane memory foam
Weight 3.6 pounds
Dimensions are 25 x 16 x 5 inches
Pillowcase is 95% Mulberry silk with 5% spandex
Pros:
Comes in standard, queen, and kings sizes
Offers a 101 NIGHT sleep trial. If not fully satisfied a complete refund is issued
Hypoallergenic memory foam is self-adjusting, meaning it's lighter and airier
Optimal comfort and support
Comes with a TriSilk moisturizing pillowcase that is washable
Prevents bed head and hair follicle breakage, along with formation of wrinkles and other skin irritations
Three-year warranty
Cons:
Price is pretty steep
May be too bulky for sensitive necks

3. Nurse Jamie Beauty Bear Age Delay Pillow
---
Features:
Constructed of memory foam
Weight is 1.2 pounds
Dimensions are 18 x 9 x 3.5 inches
Zippered satin pillowcase included for easy laundering
Pros:
Comes in three different colors: midnight gray, white, and purple. White is pictured here
Satin pillowcase is included
Minimizes creasing, fine lines and wrinkles
Is conducive for both back and side sleepers
Conforms and contours to head and face
Convenient for travel due to small size
U-shape contours to lumbar region for additional support
Minimizes eye puffiness
Free shipping
Cons
Comes in one size only
May not be ideal for side sleepers

4. YourFacePillow
---
Features:
CertiPUR certified foam
Weight is 3.51 pounds
Dimensions are 21 x 12 x 6 inches
Comes in two different sizes: standard and large
Pros:
Anti-aging and anti-acne
Visco elastic foam holds its shape
Caters to both side and back sleepers, offering three varying positions
Pricing is the same for both sizes
Washable hypoallergenic inner cover and bamboo outer cover both included
Foam is free from flame retardants, heavy metals, phthalates, and formaldehyde
Silk pillow case is available for purchase separately
Good for those with spine and other injuries
Free shipping
Great customer service
Cons:
Price may be prohibitive for some
Sides could be higher for some sleepers

5. Back to Beauty Anti-Wrinkle Head Cradle
---
Features:
Hypoallergenic down-alternative fiber
Size is smaller than standard pillow
Patented compact design
Weight is 1.85 pounds
Dimensions are 15.2 x 5.5 x 12 inches
Pros:
Comes with instructional video
Includes three different pillow cases
Anti-wrinkle and anti-acne
Helps train those who aren't accustomed to back sleeping
Retains fluffiness
May be used in varying positions, and on top of your existing pillow
Free Shipping
Cons:
Pillowcases are not sold separately but standard cases will fit
Is designed for back sleepers only

Key Points
---
I hope my review has given you an idea of what is available in terms of anti-aging pillows. How you sleep can affect skin creasing and wrinkling, so if this is an issue for you, determine which of these pillows best supports your needs.
Are you reaching an age where wrinkles are becoming an issue? Would you like to upgrade your pillow? Let me know in the comments:)