Did you know you'll spend a third of your life in bed? What if there was a way to prevent crow's feet and forehead wrinkles why you sleep? Kind of like multi-tasking. Are you curious? Do silk pillowcases prevent wrinkles? Let's unpack that question.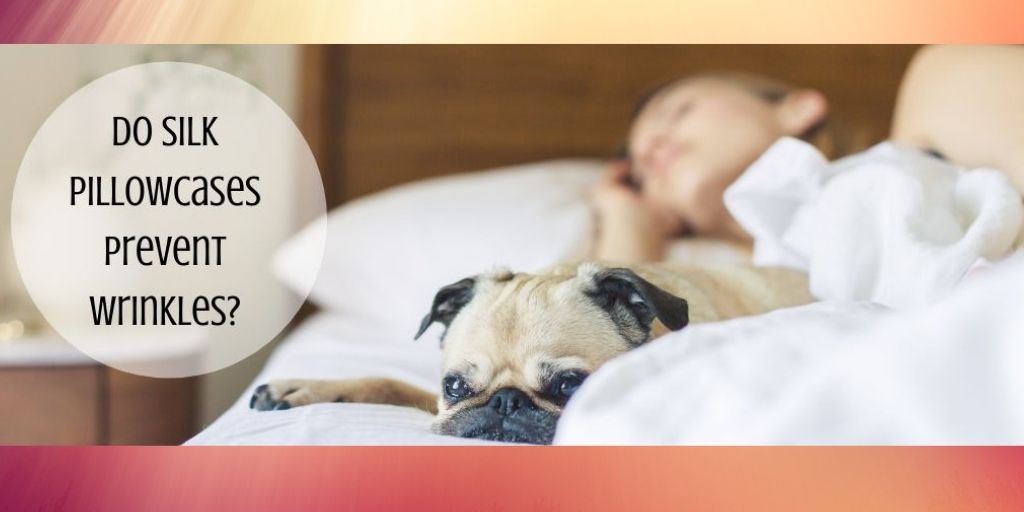 What Is Silk?
---
Silk production is an amazing process. It is made from the cocoons of silkworm caterpillars, and can take up to 3,000 cocoons to make one pound of silk. After the cocoons have been harvested, their fibers are processed, woven, and dyed. Silk from Mulberry silkworms is the most well-known form.You know that shimmery shine that is so characteristic of silk? That's due to the prism-like structure of the fiber itself.
Silk is a natural protein fiber, and for the past 4,000 years, its collection and production has, for the most part, remained unchanged.  Interestingly, silk was first produced in China thousands of years ago, and has been found in Egyptian and Chinese tombs. Silk production is quite fascinating when you delve into it.
What's All The Fuss About?
---
Do silk pillowcases really prevent wrinkles, and if they do, how? The reason silk pillowcases are anti-aging is because your skin glides on the pillow, rather than the tugging and pulling that so commonly happens with polyester and cotton pillowcases. These fabrics also dehydrate the skin by pulling moisture from it during the night. Silk, however, prevents dehydration by retaining moisture in your skin. You'll get more bang from your skincare products as well.
This sliding-effect also eliminates those annoying creases you see on your face after waking up. These creases are not only unsightly, they may also be precursors to fine lines and wrinkles. Sleeping on a silk pillow is an anti-aging strategy you can practice for the rest of your life every single night!
Affiliate Links ✔️
Of course, you wouldn't have to worry about wrinkles in the first place if you slept on your back every night, but so many people love sleeping on their side, including me. Silk is tightly woven, with a high protein content, making in naturally hypoallergenic. This characteristic inhibits the growth of bacteria, and prevents dust mites and other micro-organisms. This is a big deal if you have skin conditions like eczema and psoriasis.
Let's Talk Hair
---
The benefits of silk pillowcases doesn't end at skincare. They're also great for your hair as they prevent frizz and tangling, leaving your hair glossy, smooth, and free of split ends. Silk doesn't draw moisture out of your hair like others fabrics containing rough fibers. Moisture and natural oils in your hair are kept intact throughout the night. How would life be with no more bedhead? FYI, models sleep on silk pillowcases to keep their skin fresh and wrinkle free, and their hair soft and smooth.
The Best Silk Pillowcases To Prevent Wrinkles
---
I hope I've convinced you of the many benefits of sleeping on silk. Now let's get to six cases worthy of review:
1. Anti-Aging 100% Mulberry Silk Pillowcase by Meili & Grace
---
Features:
100% imported Mulberry silk
Dimensions: 7.8 x 5.8 x 1 inches
Weight: 6.4 ounces
Thread count: 600
Momme silk rating: 20
Grade silk: 6A
No harmful dyes and chemicals
Price is the same for all sizes
Comes in one color only
2.
Ravmix 100% Pure Mulberry Silk Pillowcase
---
  Features:                                                                                                  
Luxurious Mulberry silk
Dimensions: 20 x 30 inches (Queen)
Weight: 7.1 ounces
Thread count: 900
Momme silk rating: 30
Colors: Navy blue, pink, silver grey, ivory white, and beige
Sizes: standard, queen, and king
Hypoallergenic
Hidden side zipper
Rating:
3. Silk Lady Mulberry Silk Pillowcase
---
 Features:
100% organic, matte finish
100% Mulberry silk
Dimensions for king size: 20″ x 36″
Thread count: 600
Momme silk rating: 16
Has a natural silk feel rather than a shiny satin one
Naturally hypoallergenic
Sizes: travel, standard, queen, and king
Colors: white
Rating:
4. Fishers Finery Pure Mulberry Silk Pillowcase
---
  Features:
100% Mulberry silk, long strand, 30mm
Long strand silk, 30 mm
Momme silk rating: 30
Grade silk: 6A
Colors: white, silver, and taupe
Can be used as a sham or pillowcase
Oeko-Tec Standard certification
Made in Mongolia
Rating: 
5. MYK 100% Pure Natural Silk Pillowcase
---
100% Mulberry silk on both sides
Dimensions: 12 x 9.6 x 0.4 (queen)
weight 6.4 ounces
Momme silk rating: 25
Sizes: standard, queen, and king
Colors: 10 different colors to choose from
Hypoallergenic
Oeko-Tec Standard 100 Certified
Rating: 
6. 100% Silk Pillowcase For Hair By Celestial Silk
---
Features:
100% Mulberry silk with charmeuse weave
Dimensions: 7.5 x 9.5 x 1 inches
Weight: 7.4 ounces
Side zipper closure
Momme silk rating: 25
Colors: 16 different colors
Sizes: standard, queen, and king
Hypoallergenic
Oeko-Tec 100 Certified
Rating: 
What About Laundering?
---
Silk pillowcases can be machine washed in cold water or washed by hand. If machine washing, turn the case inside out, and place in a mesh washing bag. This will prevent scratching and pulling. Avoid using harsh detergents, and set the cycle to a gentle setting. Do not bleach.
Use cold water to wash your case and a mild soap. To keep your case silky smooth, try adding a couple drops of your favorite hair conditioner to the final rinse. Lay flat on a dry towel to dry. Do not wring or expose silk to direct sunlight. If you'd like to iron your case, always press from the backside only, using a low setting.
Key Points
---
Silk has been produced for centuries. It is made from the cocoons of silkworms, and prevents wrinkles because of its slippery texture, allowing your face to slide on the case when you're sleeping. For this reason, silk pillowcases are anti-aging. And don't forget, they're also great for your hair. Silk doesn't suck the moisture from it, preventing dryness and split ends. Plus, silk is an incredibly soft, natural fabric, and who doesn't love soft?!
Do you sleep on a silk pillowcase? Let me know in the comments:)