Squalane is a nourishing and natural remedy for beautiful skin, making it a wonderful addition to any skincare routine.  I add it to my vitamin C serum because of its superb ability to penetrate the skin to moisturize and heal.  And because it's a natural carrier oil, it boosts the effectiveness of other ingredients it's combined with.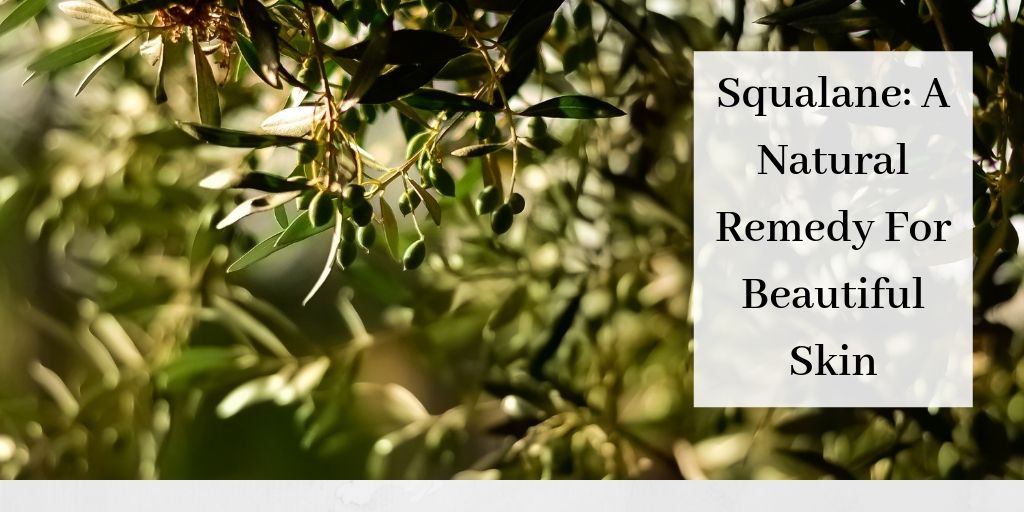 A Natural Remedy For Beautiful Skin
---
Squalane is a sustainable skincare ingredient derived from olives and other plant sources, such as sugar cane, which go through a process of fermentation. Although squalane is an oil, it doesn't feel greasy. Instead it feels light and luxurious, leaving the skin feeling silky smooth. Its magic lies in its ability to deeply penetrate the layers of the skin to hydrate and moisturize. It also has humectant properties, meaning it increases the the capacity of the skin to retain water.
Squalane is non-irritating, non-comedogenic, and is compatible with all skin types. It can be safely used by those with sensitive skin, even those with inflammatory skin conditions like eczema and psoriasis.  Because of its antioxidant properties, squalane plays a critical role in skin aging. Unfortunately, levels of this highly beneficial lubricant drop sharply after age 50.
Don't Confuse Squalane With Squalene
---
Don't confuse squalane with squalene, an unsaturated oil derived from shark, that is highly unstable. Squalane is formed when squalene goes through a process of hydrogenation, resulting in a highly stable, saturated oil. Squalene, on the other hand, oxidizes when exposed to oxygen, giving it the potential to clog pores and cause acne when used as a skincare ingredient.
Squalane is lightweight, colorless and odorless, which is why it's one of my go-to skincare ingredients.  Although, squalene has been used in the cosmetics industry for years as a moisturizing ingredient and emollient, due to its lack of sustainability, plant-derived sources like squalane have proven to be a more viable source. Squalane is far superior to squalene as a skincare ingredient. It  won't go rancid, and is shelf stable for long periods of time.
Squalane And Acne
---
Because of its non-comedogenic, antioxidant, antibacterial and anti-fungal properties, squalane can be used by those with acne, or who are prone to it. It even treats the scars caused by acne. Squalane balances sebum, or oil production, to decrease acne flares and breakouts, while protecting the skin from environmental pollution. Bacteria, specifically Propionibacterium acnes, or P. acnes, is the bacteria implicated in acne. When there is an reduction in sebum production, levels of bacteria decrease as well.
[Read More: Oily Skin Care Tips And Tricks]
Squalane Is a Multitasker
---
We all want to be informed when it comes to our skincare, and this includes the products we use to nourish our hair and nails. Squalane is a powerful anti-aging multitasker, and isn't just beneficial for lubricating and protecting the skin, it can also be used for strengthening the hair and nails. Because it acts as a barrier of sorts, any condition resulting from a lack of moisture, will benefit from the healing properties of squalane.
If you've got tame, unruly, frizzy hair, apply a few drops onto your hands, and work it into your hair to get that sleek, stylish look. Not only will squalane moisturize your hair, it will also prevent breakage and split ends. Squalane is a great alternative to traditional lips balms because of its ability to deeply hydrate to prevent chapping and dryness. As an added bonus, it is naturally shiny. It also works wonders on cracked and peeling cuticles or cracked heels. Squalane is inexpensive and a little goes a long way, making this versatile, restorative moisturizer a must-have in your skin care arsenal.
Benefits of Squalane
---
Speeds skin healing
Reduce fine lines and wrinkles
Prevents sun damage
Softens, moisturizes, and heals
Highly stable so does not oxidize
Compatible with all skin types
Is anti-aging
Absorbs well
Enhances elasticity
Regenerates cells
Great for nails and hair
Key Points
---
Squalane is a highly-absorbable emollient that lubricates and locks in moisture. Due to its ability to deeply penetrate the skin, it is a great carrier agent, and augments the healing properties of other ingredients it is combined with. Its silky, smooth, weightless texture is a natural remedy for beautiful skin. That's why I include it in all my skincare serums and lotions.
Do you use squalane? Have I sold you on its benefits? Let me know in the comments:)