Argan oil is an amber-colored, multi-purpose oil produced from the kernel, or fruit, of the argan tree. A precious oil made exclusively in Morocco, argan oil is a staple in Moroccan cuisine, and is also used cosmetically. Check out these 5 ways to use Moroccan argan oil for skin and hair care.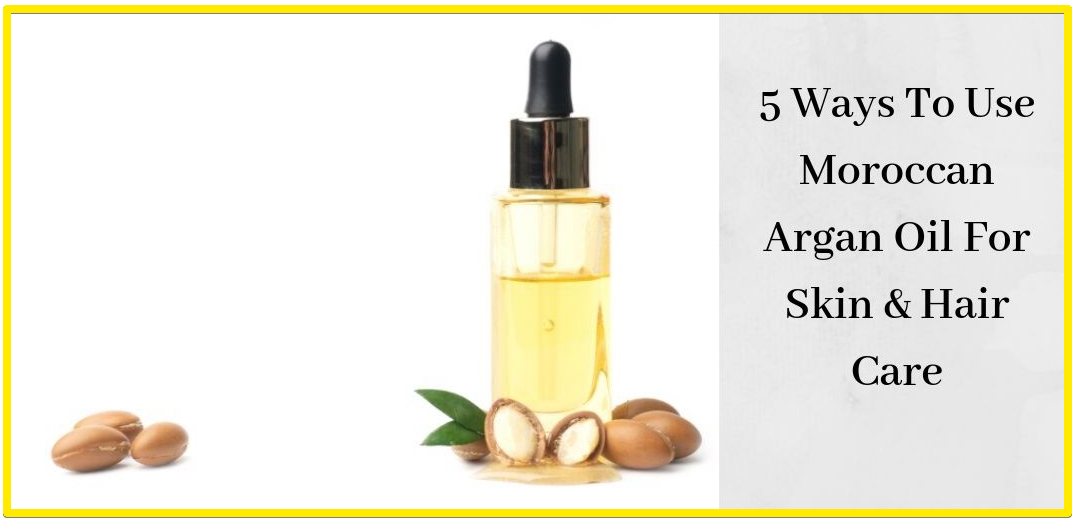 What Is Moroccan Argan Oil?
---
Argan oil is used by people around the world as a moisturizer for both skin and hair. It's also used to treat bites, rashes, and skin infections. The reason it's so beneficial for these conditions, is it's nutritional profile. It's packed with vitamins A and E, as well as antioxidants and fatty acids.
This therapeutic oil is popular in the anti-aging and skincare industry because it's comedogenic – meaning it doesn't clog pores – has superior absorption, and boosts cell-production when applied topically.
This is due to the trocopherols in vitamin E, which are touted for their effectiveness in hair care products. Instead of using pricey high-end beauty products, why not just use argan oil? Although, it isn't exactly cheap, a bottle will last a long time as a couple drops goes a long way.
"Disclaimer: As an Amazon Associate I earn from qualifying purchases."
5 Benefits Of Argan Oil
---
Argan oil is versatile and can be used for a variety of purposes. It's an excellent moisturizer, exfoliant and toner. It's also an effective remedy against acne because it's been shown to decrease sebum levels in people with oily skin.
Sebum is secreted from the sebaceous glands in the skin to protect the hair and skin from drying out. An excess of this oily substance, however, can contribute to acne and breakouts. Below are the ways I use argan oil on my skin:
1. Exfoliation
---
I make my own exfoliant at home using equal amounts of white and brown sugar, along with a little sea salt. Combine in a small jar, shake, and you're done.
It takes me all of two minutes to make my scrub, and I love it! Three times a week, I put a tablespoon or so of this mixture into my hands, add a drop or two of argan oil, and gently scrub my face. This gets rid of dead skin cells, and assures my makeup glides on effortlessly.
[Read More: How Often Should You Exfoliate?]
2. Toning
---
This step is simple. Make your own toner from home. You won't have to worry about putting irritating chemicals on your face, and you'll save money.
In a spray bottle, add equal amounts of apple cider vinegar and witch hazel. Now add two drops of argan oil to the mix.
If you have acne, add a couple drops of tea tree oil, as well. Don't add too much, though – it can burn. Use morning and night after you wash your face and before moisturizing.
3. Moisturizing
---
Argan oil is amazing as a moisturizer because it doesn't leave an oily residue on the skin. It also absorbs quickly and won't clog pores. Pay special attention to your eye area when applying.
The vitamins within the oil will help to decrease fine lines and wrinkles. One or two drops is enough to cover your entire face. Place the drops into the palms of your hands, and evenly distribute onto your face.
4. Acne And Breakouts
---
Argan oil is one oil you'll definitely want to use if you struggle with pimples, breakouts, and acne because it reduces sebum levels, a culprit underlying acne. And don't think that acne is just for teenagers.
Many people struggle with acne in their 20s and 30s. Women can experience hormonally-induced breakouts well into their 40s. Argan oil is rich in linoleic acid, is anti-inflammatory, and can be helpful in reducing scarring.
5. Hair Care
---
Argan oil isn't just for skincare, it's also a great moisturizer for your hair. This is how I use argan oil as a conditioner:
After I wash my hair, I let it air dry for a few minutes.
Then I squeeze a dollop of oil into the palms of my hands, and apply it to my hair, paying special attention to the ends.
You can also massage it into your scalp.
I've even used it on dry hair before. My thirsty hair soaks it right up.
You'll find your hair is suddenly healthier and softer, with more shine.
As you probably know, heat can do a number on your hair, as can extreme sun exposure. Blow drying, curling, and straightening all eventually take a toll, leaving your hair dry and brittle.
Deep conditioning is sometimes called for. Apply some oil to your hair before bed, put on a shower cap, and leave on all night. Shampoo your hair as usual in the morning. This leave-in argan oil conditioner is great for moisturizing, protecting, and untangling hair. It also combats frizz.
100% Pure Argan Oil
---
When you're looking to purchase argan oil, look for a brand that doesn't contain any preservatives, fragrances, or dyes. It should be 100% organic and cold-pressed.
Argan oil is considered a dry oil. This means it's non-greasy and absorbs quickly. It can also be used as a serum. Apply it after your toner, and before your moisturizer.
Try adding a drop or two of the oil to your tinted moisturizer or foundation for a radiant glow. If you suffer from dry lips like I do, add a drop directly to your lips or add a little oil to your lip balm. If you have cracked heels or cuticles, soften them by applying argan oil a couple of times a day.
Key Points
---
Argan oil is a versatile oil for both skin and hair. Add it to your favorite exfoliant, toner, or lotion or use it as a stand-alone moisturizer. It's that good. This is one oil you'll want to make a point to include in your skincare arsenal.
What do you think about the many benefits of argan oil? Let me know in the comments:)