I'm a do-it-yourself type of girl and love skin care hacks I can do from home. You'll want to read this post on how to do a steam facial if you've never done one before. Steaming will rejuvenate your complexion, unclog pores, and hydrate your skin. And the great thing is, it only takes a few minutes.  There's nothing better than taking care of your skin right from the comfort of your own home. Check out these affordable facial steamers.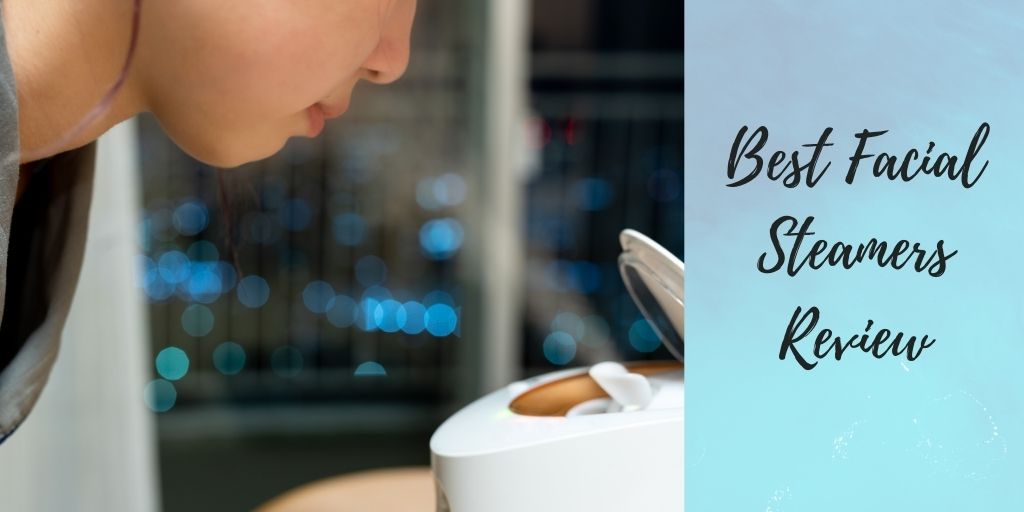 What Are Steam Facials?
---
Why steam your face? Here are some of the benefits:
Increased hydration
Better circulation
Soothing and relaxing
Detoxifying
Better product absorption
Revives lackluster skin
How To Steam You Face At Home
---
Now that you know the benefits of steam facials, here's how to do one at home:
1. Begin by thoroughly washing your face with your favorite cleanser
2. Now steam your face using either a bowl of boiling water or a facial steamer (see below). If you use a steamer, it's just a matter of turning it on. The water should be around 110 degrees Fahrenheit. To steam your face, simply fill the bowl with four or five cups of boiling water, placing your face over the bowl.
Please use distilled, or at least filtered water, for your steam facial. Tap water contains toxic chemicals, and defeats the purpose of the facial. After bringing the water to a boil, add a handful of your favorite herbs, cover the pot and simmer for two to three minutes. Essential oils can be added once the water is removed from the stove.
Hold a towel over your head, creating a tent of sorts, and trapping the steam. You'll feel the steam opening your pores. The herbs and oils contain nutrients, both toning and nourishing your skin. Holding your face approximately 10-12 inches from the bowl, steam your face anywhere from five to 10 minutes. If you place your face too close to the steaming water, you could scald your skin so be careful as you don't want to break any of the delicate capillaries that are close to the surface due to the increased blood flow.
3. After steaming is the perfect time to exfoliate because your pores are open, just waiting to be cleansed. Exfoliating will slough off dead skin cells, and clean any bacteria or other impurities from your pores. Experiment with these steps as you might prefer exfoliating before steaming. Determine what works best for you.
[Read More: How Often Should You Exfoliate?]
| Image | Name | Purchase |
| --- | --- | --- |
| | 1. Beauty Nymph Spa Home Facial Steamer | Buy Here |
| | 2. Okachi Gliya NanoSteamer Ionic Facial Steamer | Buy Here |
| | 3. Aroma Nano Ionic Face Steamer With Blackhead Remover Kit  | Buy Here |
| | 4. Pure Daily Care Nano Ionic Facial Steamer And Humidifier | Buy Here |
| | 5. Kingsteam Ozone Facial Steamer | Buy Here |
Sheet Masks
---
4. Now apply a mask. Sheet masks are awesome and easy to use. They come in paper or fabric that is the same shape as your face, and are soaked in serum, such as, vitamin C, hyaluronic acid, aloe vera, or other nourishing ingredients.
Sheet masks originated from Korean, and are great for tightening and brightening the skin. Simply place the mask on your face, leaving on for 20-30 minutes before removing. Buy sheet masks here.
If you'd rather, you can apply a simple clay mask. Clay comes in a variety of different colors, including pink, red, white, yellow, and green. You can also use bentonite clay.
Combine the clay with a little water to form a paste, then apply to your face, leaving on for 15 minutes.
5. Rinse the mask off and pat your face dry. Now is the time to apply a toner, if you'd like, as it will close your pores. This step is optional.
6. Finish by applying a moisturizer to your steamed and exfoliated face. Hyaluronic acid is a good choice as it's great for sealing in moisture. Your skin should now feel rejuvenated and revitalized.
Repeat this sequence once every two weeks or so. By the way, steaming is amazing for decongesting your sinuses when you have a cold.
[Read More: Hyaluronic Acid [The Ultimate Hydrator]
The Best Facial Steamers For Home Use
---
If you want to get really serious about steaming, you can purchase a facial steamer to do the work for you. Here are four steamers worth checking out.
1. Beauty Nymph Spa Home Facial Steamer
---
The Beauty Nymph has adjustable steam levels for unclogging pores, and removing makeup residue and dead skin cells. It's good for all skin types, has  an auto-off function, and includes a remover tool for stubborn blackheads.
The steamer can also be used as a humidifier, and comes with an inhalation attachment to cover your nose and mouth for unblocking clogged sinuses. It's the perfect solution for sore throats and congestion, and you can use the vaporizer function if you want to use your favorite essential oils. 

2. Okachi Gliya NanoSteamer Ionic Facial Steamer
---

The Okachi Gliya is a little pricier, but has a five-star rating, with many favorable reviews. This nano ionic steamer deeply cleanses pores, clearing blackheads, and disinfecting acne-causing bacteria.
The water is kept to 104 degrees so you don't have to worry about burning yourself, and steam is released within 30 seconds. The touch-panel is easy to control, and the steamer shuts off by simply closing the mirror.

3. Aroma Nano Ionic Face Steamer With Blackhead Remover Kit

 
---
Check out this spa-quality facial steamer and humidifier with aromatherapy that combines the latest nano ionic atomizer technology to release impurities from clogged pores, while hydrating and boosting collagen production. Nano-sized particles have the ability to deeply penetrate the skin up to 10 times more effectively than steamers that don't incorporate this technology.
It's advised to use the steamer twice per week in conjunction with the blackhead pore vacuum kit. Up the ante by pairing this routine with your favorite microdermabrasion machine or face mask. The steamer comes with an aromatherapy attachment and steam inhaler for clearing the sinuses – all parts are BPA-free. The steamer has a chic design, and is compact enough to easily tuck away for storage.

4. Pure Daily Care Nano Ionic Facial Steamer And Humidifier
---
Pure Daily Care has designed both a facial steamer and humidifier that generates nano-ionic steam by combining an ultra sonic vaporizer with a conventional heating element. Nano steam, that produces negatively charged ionic particles, is able to deeply penetrate the skin to clear debris and unclog pores. This 5-piece spa-quality steamer kit also includes a stainless steel blackhead and blemish extractor.
Use the humidifier feature to humidify a room or use the extra chamber to warm towels for a spa-like experience. The 200 ml water tank enables a full 30 minutes of steaming bliss. The steamer is ultra quiet, with precise temperature controls. Included in the box are the nanosteamer, the 5-piece stainless steel skin kit with storage pouch, a power cable, and instruction manual.


5. Kingsteam Ozone Facial Steamer
---
The Kingsteam uses ozone steam to deep clean, sterilize, and moisturize. It produces rapid bursts of hot steam to deeply penetrate the skin where it can do its magic, and is great for acne because ozone is anti-bacterial. The Kingsteam is the perfect solution if you want to pamper yourself at home. It also doubles as a humidifier.
The built-in aromatherapy diffuser function enables you to enjoy your favorite essential oils during a steam session, and the extendable arm and 360 degree rotatable sprayer lets you adjust the angle to your liking. An automatic alarm will sound when the water level gets too low.

Key Points
---
Steaming your face is easy, inexpensive, and feels great. Facials are a relaxing addition to any skin-care routine. All you need is water, a way to heat it, a handful of herbs, and a towel. Facials are a fantastic way to practice self-care, and take time for yourself. Plus, they are cleansing, detoxifying, and will leave your skin looking vibrant and radiant.
Have you ever done a steam facial at home? What was your experience? Let me know in the comments:)