Konjac, what? Kind of a funny word and especially for a sponge, but if you're looking for an innovative way to wash your face, you might just fall in love with one of these squishy, colorful cleansers. Let's learn how to use a konjac sponge.  I'll tell you everything you ever wanted to know about these awesome little cleansing and exfoliating devices. Skin care never looked so delicious.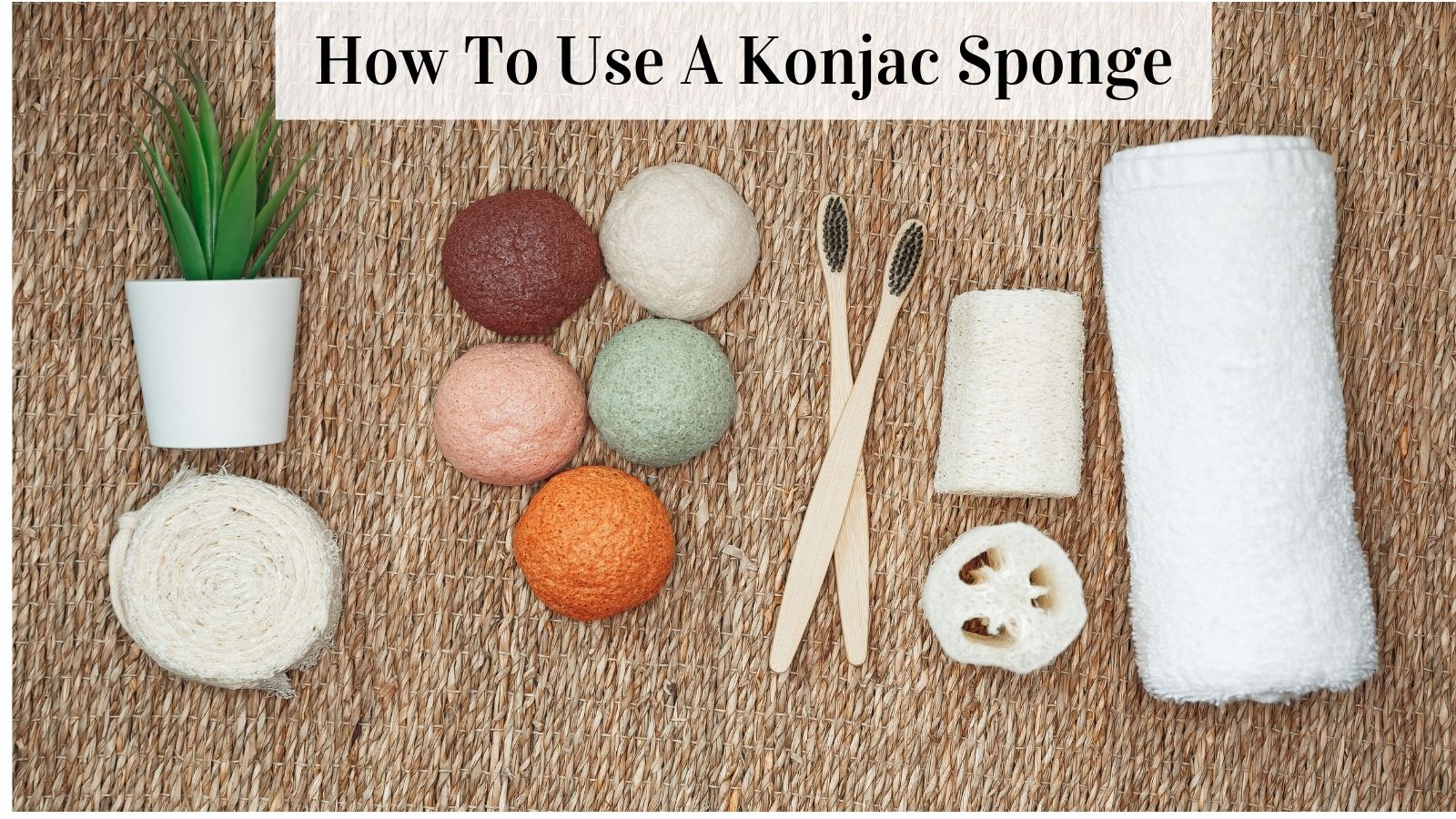 Not many of us are familiar with Konjac. It's a perennial plant hailing from the mountainous regions of Japan. The Asians sure know how to do skin care. These beautiful-looking sponges are made from the root of the Konjac plant, and if you've heard of glucomannan or shirataki noodles, they also come from this versatile plant.
Konjac Sponge Benefits
---
Removes makeup residue, dirt, and oil
Gently exfoliates to remove dead skin cells
Eliminates blackheads and pimples
Restores natural glow
Great for those with sensitive skin and painful skin conditions
How To Use A Konjac Sponge
---
1. Soak your sponge for a few seconds until it expands in size – when using it for the first time, soak for 15 minutes to soften the fibers. The sponge will be quite small when you first get it, but will expand to 1 1/2 times its size when wet.
2. Wring out excess water by squeezing, but don't twist or stretch the sponge as you might damage the natural fibers.
3. Wet your face, and put a dab of your favorite cleanser on the moistened sponge.
4. Alternatively, you can apply cleanser directly to your face.
5. Using circular motions, cleanse each area of your face. And don't forget your neck.
6. When you're finished, rinse out your sponge under a stream of warm water, squeezing until the water runs clear.
7. When all excess water is removed, hang the sponge to dry with the handy string it comes with. Sponges are porous and are the perfect breeding ground for bacteria and mold. Make sure the drying area is well-ventilated, allowing the moisture to evaporate before the next use. If your bathroom is humid, find another place to dry your sponge.
Watch the video below for a demonstration of how to use the sponges.
Natural Sponge Care
---
Disinfect the sponge every couple weeks by soaking in warm water. Never use boiling water as it can cause shrinkage or damage to the sponge. A good time to use the sponge is during a hot shower. The heat will open your pores, allowing the sponge to better remove impurities from the skin. Scrub lightly on areas where acne is present, or on dry and irritated patches of skin.
Konjac sponges are gentle enough to use daily, or even twice a day. And those with painful skin conditions like eczema, psoriasis, or rosacea can use them safely. Try them on your body, too, especially on your elbows or other dry area.
How Long Will They Last?
---
Konjac sponges are made from natural fibers so it makes sense they'll break down over time. How you care for them will determine how long they last. You can extend their shelf life by thoroughly rinsing and drying them after each use. Think about replacing your sponge every month or so when you notice signs of deterioration such as a loss of texture.
Your sponge will also last longer the less you use it. When you're ready for a new one, toss your old sponge into your compost heap if your have one, or the potted plant on your front porch. Since it's made of natural fibers, its biodegradable, and will break down over time.
Konjac Sponge Set
---
Konjac sponges are ubiquitous, meaning you can find them everywhere. That's how popular they are!
You get six individually wrapped white sponges for soft and gentle cleansing, while revitalizing and removing impurities from the skin. Sponges will feel hard initially, but will soften right up when wet.  These sponges are a little bulkier than other brands, which makes them easier to grasp, and I especially love the texture and how fast they dry. Sponges are awesome for rinsing off face masks.
You can also buy konjac body sponges
Colored Konjac Sponges
---
As you can see in the picture to the left, many Konjac sponges come in a variety of colors based on what they're filled with. For instance, the yellow sponge is filled with turmeric, the green with green clay, the pink with pink clay, the red with red clay, and the black with charcoal. The sponges themselves are made of pure Konjac plant fiber.
Each sponge is packed with nourishing antioxidants and are free from impurities and pollutants. They are naturally alkaline, and pH balanced. After one use, your skin will feel squeaky clean, smooth, and radiant, and best of all, they are so affordable.
What Facial Cleanser Should I Use?
---
Use your favorite cleanser on the sponge, or TRY THIS ONE. It's full of organic and anti-aging ingredients, including vitamin C, bilberry extract, and other detoxifying exfoliants, antioxidants, and brightening botanicals. I'm a huge fan of vitamin C for the skin. Check out my post on it here.
Made in Australia, this bubbly cleanser is 100 percent natural, vegan, and all ingredients are plant based, non-toxic, and paraben free. And you know how hard it can be to get off stubborn waterproof mascara? Well, congratulations, you just found the solution!
This sweet orange foaming cleanser is antibacterial as well so will draw out impurities on the skin, while treating pimples and blackheads. It's perfect for breakouts and acne-prone skin as it won't leave your skin with that annoying tight feeling. This cleanser is ideal for you if your skin is normal, oily, or a combination of the two. And if it doesn't work for you, return it for a full refund with no questions asked.
Key Points
---
Konjac sponges are non-irritating, spongy cleansing tools that are not only fun to use, but are great for removing makeup residue, waterproof mascara, and facial masks. They're gentle enough to use everyday, are biodegradable, and affordable.
In my opinion, they're great for washing your face, but aren't abrasive enough for exfoliating. I would use a scrub, specifically designed for that purpose, in conjunction with a sponge.
Have you used a Konjac sponge before? What did you like about it? If you haven't tried one, would you like to? Let me know in the comments:)