We've all heard of lanolin, but do you know where it comes from and why it's so widely used in beauty care products? You can find it in soaps, gels, cleansers, creams, balms, and hair-care preparations. I like pure lanolin oil because it's amazing for the skin, lips, and hair. How many products are you currently using that are this versatile?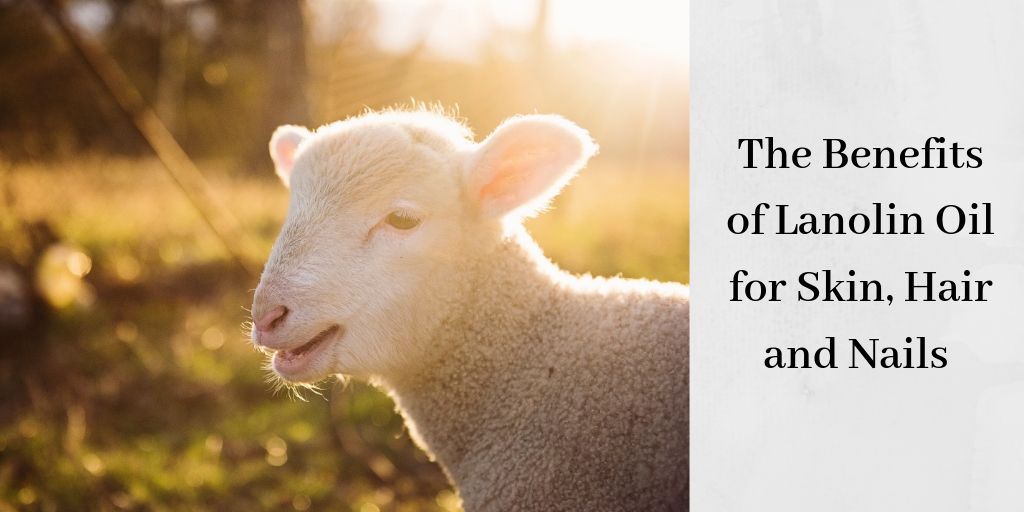 What Is Pure Lanolin Oil?
---
Lanolin is a natural, waxy substance found in sheep's wool. It's secreted from their sebaceous glands to protect against cold weather and to keep them dry by repelling water. This is why lanolin is so effective as a skin moisturizer because it acts as a barrier to lock in moisture . In fact, sheep produce lanolin in the same way humans emit sweat.
Also called wool grease or wool fat, lanolin is a popular ingredient in the skin care and cosmetics industries due to its ability to moisturize and lubricate. It's also a sealant to prevent moisture loss, and an emollient because of its softening characteristics. Lanolin is extracted from the wool only after it's removed from the sheep so the animals incur no hard. The ancient Greeks used lanolin hundreds of years before the birth of Christ with references to it in the Bible.
Rich in lipids, lanolin works well with other skin and hair care ingredients like coconut oil and Shea butter to soften and smooth, also acting as an emulsifier to bind water and oil together. Not only does lanolin trap in moisture to prevent its loss, it's also a humectant, drawing in humidity from the air to further hydrate. Its waxy texture makes it ideal for soothing chapped lips, dry skin, and unmanageable hair.
Other Uses
---
Nursing mothers use lanolin to prevent and treat sore nipples when breastfeeding. It's also efficacious for diaper rash, and is used to calm burns from radiation therapy. Emollients such as lanolin, protect the skin and counteract dryness, by forming a protective, oil-rich layer on the surface of the skin.
Lanolin's effectiveness lies in its resemblance to human sebum, its ability to penetrate the skin, along with its superior absorbability. It is awesome for dry and unruly hair because it coats the hair shaft to keep it hydrated. Aside from creams and balms, lanolin is even found in makeup, such as lipstick.
#affiliate links
Oils, Creams, And Conditioners
---
Lanolin is a versatile ingredient found in a variety of beauty care products. Personally, I like using lanolin oil because it's easy to use in DIY recipes and makes them that much better.
Following are three DIY recipes, including a lanolin hair conditioner, lip balm, and body cream. They're extremely moisturizing, affordable, and fun to make:
1. DIY Lanolin Hair Conditioner
---
This hair conditioner is great for dry, sun-damaged, or color-treated hair. Leave it on over night with a shower cap on for extreme moisturizing.
Ingredients:
Directions:
Melt all ingredients except the essential oil in a small glass bowl.
Place the bowl in a saucepan with two inches of boiling water.
When melted, remove from heat, add the essential oil, and pour into a wide-mouthed jar
Coat hair liberally with the mixture
2. Lanolin Lip Balm
---
This lip balm is inexpensive and easy to make and will keep your lips hydrated. The recipe can be doubled if you want to make a larger batch. Use tins or chapstick containers, whatever you prefer.
Ingredients:
1/1/2 teaspoon lanolin
3 teaspoons beeswax (you can either grate a block of beeswax or use the pellets)
6 teaspoons Shea butter ( you can also use coconut oil)
1/2 teaspoon vitamin E oil
2 drops glycerin (optional – this makes the mixture silky for easy application)
A few drops of your favorite essential oil (peppermint or eucalyptus works well)

Directions:
Put lanolin, beeswax, Shea butter, and vitamin E gel in a small glass bowl.
Fill a saucepan with a couple inches of water, and place the glass bowl inside it. On medium heat, melt until the mixture is liquified.
Remove from heat and add the glycerin and essential oil. Pour into jars, tins, or chapstick molds. The lip balm will harden as it cools.
3. DIY Lanolin Cream
---
You'll love how moisturizing this cream is. Use it daily or multiple times a day on dry patches of skin.
Be sure and take it with you on your next vacation because it's really great for soothing sunburns.
Ingredients:
1 Tablespoon of lanolin oil or solid-form lanolin
1/2 Tablespoon Shea butter
1/2 Tablespoon of beeswax pellets
1 teaspoon castor oil
1 teaspoon squalane
1/4 cup avocado oil
1/2 dropper full essential oil of your choice (rosemary oil is a natural preservative)

[Read More: Squalane: A Natural Remedy For Beautiful Skin]
Directions:
Put all ingredients in a glass bowl and place in a saucepan with a few inches of water
Heat the water to boiling
Remove the glass bowl when all the ingredients have liquified
Pour into a wide-mouthed glass jar that isn't too deep
Sprinkle in your essential oil
The solution will harden as it cools. To speed up the process, place in the fridge
This cream can be used anywhere on the body, and is especially good for skin conditions, such as psoriasis and eczema.
Key Points
---
Pure lanolin oil is a multi-tasker in regard to skin, hair, and lip care.  It protects, moisturizes, soothes, seals, and is a terrific lubricant and emollient. It's locks in moisture and is also a humectant, drawing in moisture from the air to hydrate and condition. Give lanolin a try if you haven't used it before. You'll be pleasantly surprised how soft, smooth, and healthy your skin and hair will feel.
What is your favorite way to use lanolin? Let me know in the comments:)
References:
(1) WebMD: Lanolin Cream
(2) healthline: What You Need to Know About Lanolin Oil
(3) National Library of Medicine National Center for Biotechnology Information: The effect of daily treatment with an olive oil/lanolin emollient on skin integrity in preterm infants: a randomized controlled trial
(4) US National Library of Medicine National Institutes of Health: Moisturizers: The Slippery Road
(5) US National Library of Medicine National Institutes of Health: Moisturizers: Lanolin-Based Synthetic Membranes as Percutaneous Absorption Models for Transdermal Drug Delivery
(6) US National Library of Medicine National Institutes of Health: The Role of Moisturizers in Addressing Various Kinds of Dermatitis: A Review