Turn bath time into a spa-like experience with homemade bath bombs. It's much more affordable to make your own, rather than buying them, not to mention you're in control of the quality of the ingredients. Check out these easy bath bomb recipes. They're super fun to package in a creative way and give away as gifts.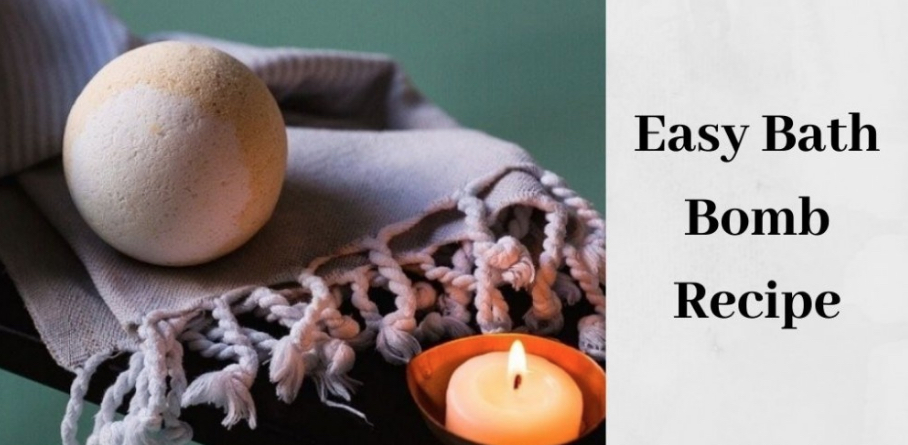 Disclaimer: "As an Amazon Associate, I earn on qualifying purchases."
Easy Bath Bomb Recipes For Different Holidays
---
Bath bombs are fun to make seasonally. Here are some ideas:
1. Red and green ones for Christmas, scented with cinnamon or clove essential oils
2. Pink and purple ones for Valentine's day, scented with jasmine or peppermint.
3. Green ones for St. Patrick's day, scented with sage or eucalyptus
4. Yellow and baby blue ones for Easter, scented with lemongrass or orange
5. Orange and forest green ones for Thanksgiving, scented with clove or pine
6. Red, white, and blue ones for the Fourth of July, scented with rosemary or vetiver
Ingredients:
The dry ingredients are easy to remember, 1/2 cup of each ingredient, with double the amount of baking soda.
Olive or castor oil: 2 tablespoons (you can also use argan, coconut, or almond oil).
Favorite essential oils: 1-2 teaspoons
Water or witch hazel: 2 teaspoons (add a little more if necessary)
Food coloring: 2 drops
Tip: One tip I learned while making bath bombs is to put some witch hazel in a spray bottle, and spray the mixture if it starts to dry out.
Experiment with the oils you use, you may like one better than the other. Also, play around with essential oils and food coloring combinations. You can add powdered herbs in place of the essential oils or in addition to. Or toss in a little vanilla extract if you're a vanilla lover.
Directions:
---
Combine the Epsom salt, baking soda, citric acid and corn starch or arrowroot in a mixing bowl and stir well using a whisk.
In a separate bowl, combine the oil, water or witch hazel, essential oil, and food coloring. Mix well.
SLOWLY add the second mixture, a little at a time, to the first.
The mixture should be solid enough to handle without crumbling. If not, now is a good time to spray it with witch hazel.  Pack mixture TIGHTLY into each half of your molds.
The molds should be overflowing just a bit.
Don't dilly dally while placing the mixture into molds or it will dry out.
Now let the bombs dry completely, which may take up to 24 hours or even longer. They'll fall apart if not fully dry. The mixture will expand in the mold while drying, which is normal. It's fine to tap it down when this happens.
Gently remove bombs by gingerly tapping each side of the mold with a spoon until they're loosened.
Always store bombs in an airtight container until you're ready to use or package them.
Tip: You can use muffin tins if you don't have molds specifically for bath bombs. Just make sure you grease them well.
A digital scale works great for getting exact measurements.
Essential Oil Blends
---
Instead of using just one essential oil to your bath bomb recipe, you can add a blend of oils you've formulated yourself. Here are some ideas to spur your imagination:
1. Orange, grapefruit, and spearmint
2. Pine, bergamot, and white fir
3. Tangerine, lemon, and lime
4. Myrrh, frankincense, and cypress
5. Wintergreen, clary sage, and spearmint
6. Lavender, jasmine, and clove
7. Cinnamon, clove, and nutmeg
8. Rose, ylang ylang, and neroli
9. Cedar, oakmoss, and vetiver
10. Marjoram, basil, and patchouli

Packaging Ideas
---
Now comes the fun part, packaging your bath bombs using either craft bags, baskets, or colorful gift boxes. Use your imagination when it comes to choosing colors and creating labels. Create a delightful package you'll be proud to present to that special someone.
Buy brown paper craft bags, and place three bath bombs in the bottom of the bag. Fold the flap over an inch or so and fold in the corners. Fold one more time to resemble an envelope. Using a paper punch, punch two holes in the center top of the bag about an inch apart. Tie with a colorful ribbon and put a sticker label underneath the last fold. Or buy these darling bags that are already folded with a ribbon.
Using a small square or round basket that you having hanging around, put three to five bath bombs in the bottom of the basket, depending on the size. Surround each bomb with pink confetti. Place a large piece of stiff plastic wrap on the table, centering the basket in the middle of it. Join all four corners at the top of the basket, and tie with a two-inch lime green ribbon. Switch out the colors if giving as a seasonal gift.
Purchase square gift boxes in the color of your choice. Fill the bottom with tissue paper in a different color than the gift box. Place four bath bombs on top of the tissue paper. Close the box and tie with a ribbon of your choice.
Place three bath bombs on a generous square of burlap. Fray all four edges about two inches. Join all four corners above the bombs using either a stylish ribbon or a flower.
Key Points
---
Bath bombs are fun to make and festive to give away as gifts. They're an incredible way to relax and unwind at the end of a hectic, stress-filled day. Aside from saving money, making your own bombs ensures you know exactly what ingredients they contain, versus store-bought versions that are often made with toxic ingredients. Homemade is always best if possible!
Have you made bath bombs? Let me know in the comments:)