There's nothing like foundation to smooth, color correct, and give you that fresh-faced look. It's provides the perfect palette for blush, lipstick, eye shadow, and mascara. You can skip a step in your skincare routine if you buy foundation that contains sunblock. Not only will your complexion look flawless, your skin will be protected from ultraviolet radiation. With summer just around the corner, you'll want a lightweight foundation that will provide coverage and protection at the same time. Keep reading for the 8 best foundations with sunscreen.
Foundation comes in a variety of applications, liquid or cream foundations, loose or pressed powders, concealers, and tinted moisturizers. There's also waterproof foundations with sun protection. Once you've settled on the type of foundation you want, you'll then need to choose the right shade for your skin type.
1. ILIA True Skin Serum Foundation
---
Polish your complexion with this serum-infused foundation, which is extra fabulous because it's equal parts skincare and color-correcting makeup. Formulated with a blend of nourishing active botanicals to soothe irritation, reduce redness, and minimize fine lines and pores, it provides medium coverage with a silky, luminous finish.
Available in 10 shades, you're sure to find a hue that best matches your individual complexion. This product is vegan, and gluten and cruelty-free. All ingredients are certified organic, including aloe leaf juice, marula and jojoba oils, rose hip, jasmine, squalane, hydrogenated lecithin, and titanium dioxide, a natural sunscreen.
2. It Cosmetics Celebration Foundation
---
Hydrating and anti-aging, this full-coverage powder foundation comes in three shades, fair, light, and medium. The medium shade is shown below. Easy to apply, it can also double as an eye shadow, and has broad-spectrum UVA/UVB protection with an SPF of 50.
This pressed powder is reasonably priced and lightweight, with buildable coverage. I like using compacts, they're convenient and easy to toss in your purse for occasional touchups if needed.
3. ILia Tinted Moisturizer
---
Not everyone likes wearing foundation, yet want a little color. If this is you, a tinted moisturizer with sunscreen is a great solution, especially on hot, humid days. Ilia's semi-matte tinted moisturizer is made with soothing botanicals to refresh and revitalize. Ingredients include aloe vera to lock in moisture, along with rosemary extract and white tea to fight free radicals.
Sodium hyaluronate promotes micro-circulation, leading to a firmer, plumper appearance. Active ingredients, zinc oxide and titanium dioxide, protect against sun damage, while coconut, sesame, rose hip and avocado oils nourish and moisturize. 5 different shades are available.
4. SUZANNE Organics Get Set Foundation & Honey Loose Powder
---
Suzanne Somers is a household name when it comes to skin care and cosmetics. This foundation and powder set includes an organic sheer flawless foundation, and a loose honey-colored powder with brush. Healthy for your skin, gorgeous, and luxurious, the cosmetics are formulated using rich minerals that provide superior coverage and blend seamlessly.
All ingredients are certified organic and are free of petroleum fillers, plastics, parabens, sulfates, phthalates, pesticides, synthetic fragrances and dyes. They're gluten-free, are not tested on animals, and contain nourishing and soothing botanicals, including aloe leaf juice and jojoba and grape seed oils.
The foundation and loose powder can be combined or used individually. The powder is light and transparent enough that a thin coat can be layered on top of the foundation. It's luxuriously fine, and is non-drying, with a matte finish.
5. RMS "Un" Cover-Up
---
This "Un" cover up foundation was made to enhance healthy skin rather than conceal it. In fact, it performs kind of like a second skin. Lightweight, hydrating, and rejuvenating, it minimizes pores, smooths skin tone, and hides imperfections. And can you believe it comes in 16 different colors?!
All ingredients are certified organic, and include coconut, jojoba, and castor seed oils, beeswax, cocoa seed butter, and titanium dioxide for sun protection. Pigments come from iron oxides.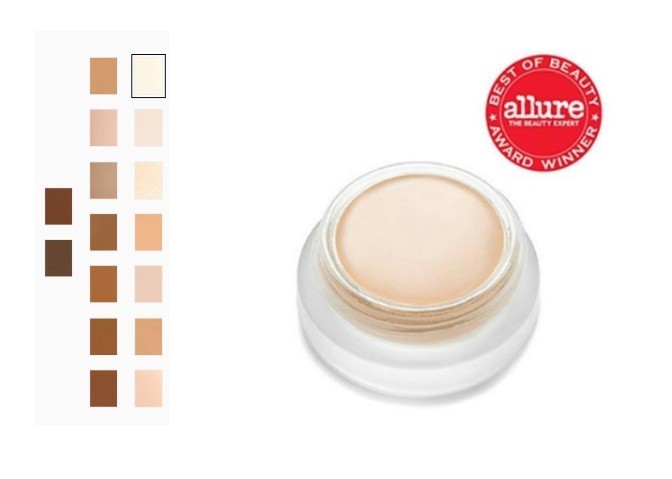 Watch this video for foundation do's and don'ts.
6. Dermablend Smooth Liquid Foundation
---
Dermablend liquid foundation glides on smoothly to even out skin tone and reduce redness and hyperpigmentation. Lightweight and buildable, this medium-coverage foundation will stay on for hours, and is good for all skin types, even sensitive skin. It offers broad spectrum sun protection with an SPF of 25.
A whopping 15 different shades are available to support a variety of skin tones with an all-natural finish that won't cake and is smudge-proof. The formula is dermatologist and allergy tested, is non-acnegenic and non-comedogenic, and is  fragrance free.
7. Purlisse Perfect Glow Beauty Balm Cream
---
This creamy tinted moisturizer offers all-natural coverage with a flawless matte finish. It can be used alone for a uniform complexion or is sheer enough to be used underneath your favorite foundation for the ultimate in coverage. It's good for all skin types, including sensitive, dry, combination, oily, acne-prone, and mature skin.
Brighten dull-looking skin, hide blemishes, and reduce redness by applying an even coat of this hypoallergenic and hydrating colored moisturizer that's even gentle enough to use for skin conditions, such as rosacea. It has an SPF of 30 for broad-spectrum protection, is free of parabens, and is non-comedogenic so won't clog pores. This product is vegan, anti-aging, and contains antioxidants like chamomile and artemisia.
8. Tarte Amazonian Clay Full Coverage Foundation
---
This full-coverage, whipped liquid foundation is made with Amazonian clay and has an SPF of 15. It contains non-chemical sunscreen filters, is oil-free, has a matte finish, and comes in three different shades. It won't cake and coverage will last for up to 12 hours.
Ingredients also include vitamin E, which is an emollient, antioxidant, and a natural preservative. It is free of mineral oil, parabens, sulfates, phthalates, triclosan, and formaldehyde, and is gluten-free and vegan. Since this foundation is oil-free, it's a great choice for those with oily and combination skin.
Key Points
---
A high-quality foundation, perfectly matched to your particular skin type and tone, is amazing for covering imperfections, reducing the appearance of blemishes, and for protecting the skin from sun damage. Each of the foundations above provides full coverage and is long-lasting.
Choose between a pressed powder, liquid foundation, or a tinted moisturizer. With so many shades and options available, you're sure to find the right type and hue to match your skin tone. What do you look for in a foundation? Let me know in the comments:)