Camelina oil is extracted from the seeds of the Camelina Sativa plant also known as Dutch flax, German sesame, Siberian oilseed, or Gold-of-pleasure. Not only is it nourishing for the skin and hair, it can also ease the pain of arthritis by lowering inflammation. Here are 10 things you may not know about camelina oil.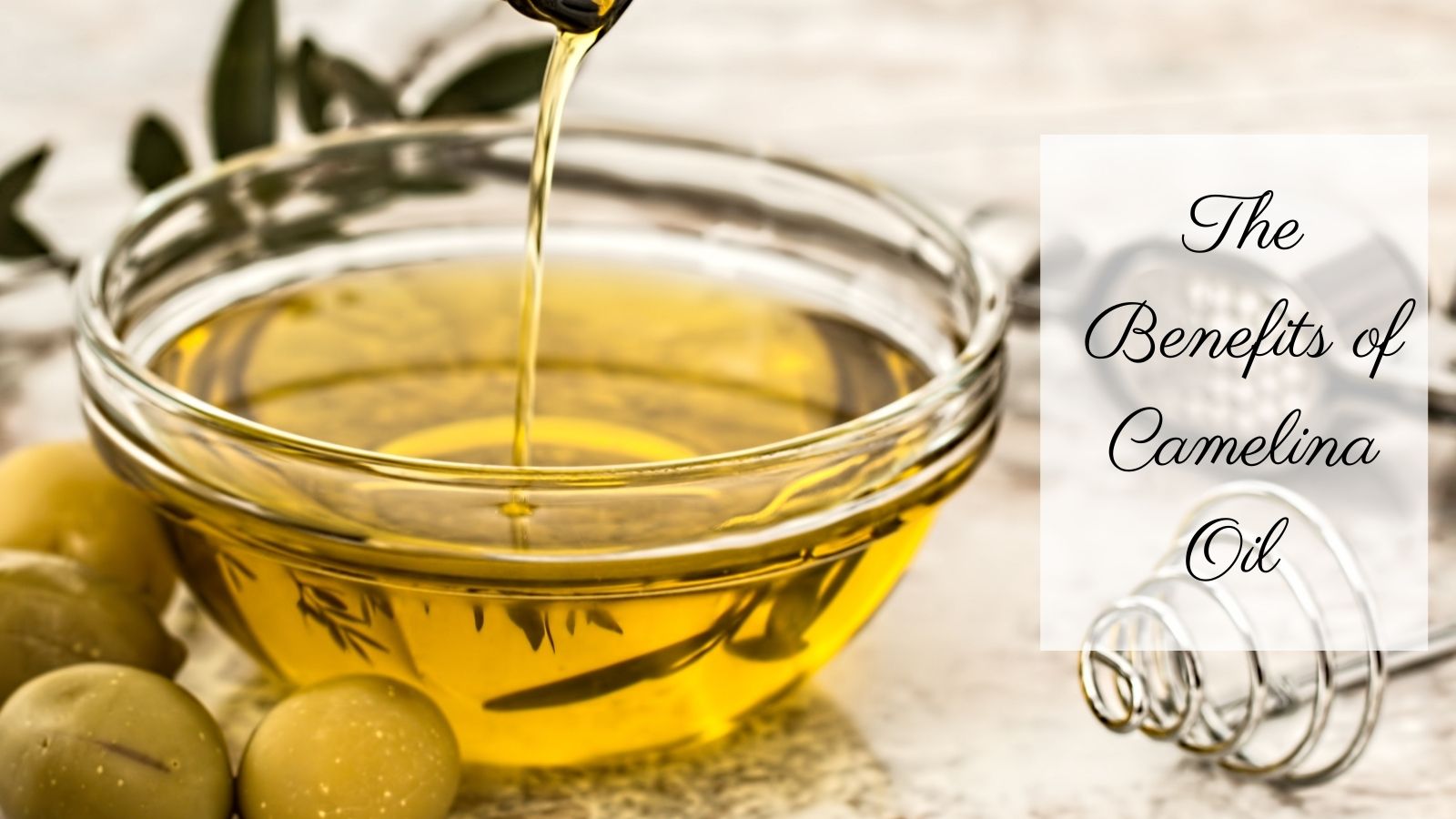 Disclosure: "As an Amazon Associate I earn from qualifying purchases."
Benefits of Camelina Oil
---
The camelina plant has been around for over 3,000 years, yet most people haven't heard of it even though it's been cultivated in European countries for centuries. It's a versatile oil that's not only good for skin and hair, its unique flavor and high smoke point (475° Fahrenheit) make it a food-lover's favorite, as well.
Camelina oil is an annual found within the mustard family, the oil being extracted from the seeds. Its appearance is similar to flax oil, but its shelf life is much more stable, which prevents rancidity. The botanical name is Camelina Sativa Seed Oil.
Here are some interesting facts about camelina oil:
1. Is rich in antioxidants, monounsaturated fats, and omega 3 fatty acids, making it a highly nourishing oil for both internal and external use.
2. Has emollient, anti-inflammatory, and moisturizing properties, and is used as an ingredient in face and body lotions. These properties make it a great choice for inflammatory skin conditions, such as acne, psoriasis and eczema.
3. Resembles flax oil, but is more stable. The vitamin E content prevents it from going rancid, with the shelf life being 18 months from press date.
4. Considered a dry oil, camelina oil makes an outstanding carrier oil and is used in conjunction with other oils in cosmetics and beauty care products. It's often used as a massage oil due to its subtle, nutty aroma, and its superb ability to penetrate the skin.
5. Heating oils can cause them to oxidize, which creates free radicals. Camelina oil prevents free radical damage due to its high vitamin E content, which makes the oil heat-stable. This means it can be heated to high temperatures when cooking to maintain its beneficial properties.
6. Great for nourishing the scalp and reducing dandruff, while protecting the hair against free radical damage. Camelina oil is a favorite for hot oil scalp massages.
8. Can be used as an alternative to olive oil for making salad dressings and sauces or just drizzling over food. Unlike olive oil, however it has a high smoke point so won't oxidize while heated. This smoke point rivals coconut oil, grapeseed oil and refined cooking oils.
9. Used topically, camelina oil reduces the pain, swelling, and inflammation of arthritis, while improving joint mobility. It quells inflammation when taken internally, as well due to its high omega fatty acid content.
10. Supports brain, nerve, and eye health. Fatty acids, including EPA, DHA, and alpha linoleic acid, protect against cognitive decline, Alzheimer's disease, nerve damage, and macular degeneration. The oil is being considered as a biofuel alternative to corn.

Key Points
---
Camelina oil is an under-appreciated, anti-inflammatory oil with an impressive fatty acid and antioxidant profile. The oil's versatility makes it fantastic for both internal and external use. In fact, just one tablespoon provides the recommended daily allowance of omega 3s and vitamin E.
Not many oils can make that claim. Use it to nourish your skin, soften and protect your hair, as a raw ingredient in DIY skincare, enjoy it's subtle goodness in the kitchen, and use as a nutritional supplement to boost your immune system.
Have you heard of camelina oil? Let me know in the comments:)
References:
(1) Bulkapothecary.com: Camelina Oil
(2) Mountainroseherbs.com: Camelina Oil
(3) BeautyGlimpse.com: amazing Beauty Benefits Of Camelina Oil You Should Not Ignore
(4) Threefarmers.ca: Camelina Oil
(5) Bioseedsaustralia.com.au: Cold Pressed Extra Virgin Camelina Oil